It's good to see the Sanders family again. Even if they've got nothing new to say.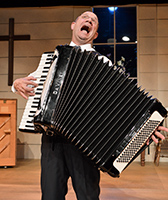 The actors play their own instruments in "Smoke on the Mountain." John Vessels as Pastor Mervin Oglethorpe. (Photo courtesy of Beef & Boards Dinner Theatre)
The Sanders family is the musical crew at the core of "Smoke on the Mountain," currently rousing audiences at Beef & Boards Dinner Theatre (where it runs through Aug. 18). There's the bread-winning papa who learned about temptation when a rival retailer started selling liquor, and the no-nonsense mama, who gets hilariously lost in her religious metaphors as she offers a children's sermon. There's a set of twins. And there's an uncle who spent time in prison and shares a quietly moving monologue about the moment he realized that when Jesus fed the multitudes, he fed everyone. And there's June, who has no discernable talent but is allowed to perform, anyway.
As I wrote when it was first performed at the Beef in 2007, "Smoke on the Mountain" belongs—along with "Nunsense," "Forever Plaid" and a handful of others—to an interesting phenomenon in contemporary theater: musicals with staying power fueled not by a Broadway pedigree but by group sales and word-of-mouth. They are shows primarily targeting people who don't see themselves as theater geeks.
Theater artists may look down on these offerings because of their perceived pandering and artlessness (and, sometimes, because their characters are unapologetically religious). Theater managing directors love them because they bring in the cash. And please audiences.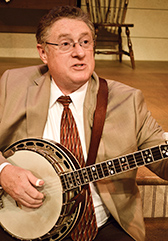 Award-winning songwriter Bobby Taylor as patriarch Burl Sanders. (Photo courtesy of Beef & Boards Dinner Theatre)
As with many of these populist shows, "Smoke" ties its songs together with a loose plot: It's 1938 and the Sanders Family is booked to play a rural Baptist church in a town hit by hard times. Despite an accident that flipped over their van near the pickle plant (the town's leading industry), the players arrive and, as their concert progresses, we gain insight into each family member as well as the congregation's pastor, who can't keep himself out of the musical action.
And with barely a word spoken between them, we see a romance blossom between the preacher and June—a relationship that grows in the show's two sequels, which also have been staged in past seasons on Beef's boards.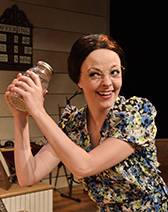 Sarah Hund as June Sanders. (Photo courtesy of Beef & Boards Dinner Theatre)
The previous production of the show here was a rare case of theatrical alchemy where all the elements came together perfectly (and I don't use that term casually). I loved, loved, loved that production so much that I went back a second time just to try to figure out how the magic happened.
This time, despite three cast-member carryovers, the gulf is greater between the tender moments and the schtick and the music isn't as sharply performed (the previous cast could have performed without the dialogue and it would have been a terrific evening's entertainment).
The newcomers handle their monologue moments just fine—and Brian Gunter brings to troubled brother Stanley a legit roots voice and a Lyle Lovett look. But as the twins, Keith Potts and Ashlie Roberson, while talented, don't feel born to the parts—something this show needs for maximum effectiveness. And, along with Gunter, they seem less a part of the ensemble when they aren't in the spotlight.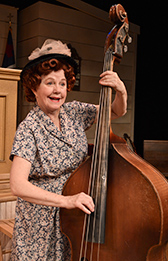 Pam Pendleton as matriarch Vera Sanders. (Photo courtesy of Beef & Boards Dinner Theatre)
The exception among the B&B newbies is Bobby Taylor, who brings a subtle but palpable paternal anxiety to Burl, the father—an approach very different from his predecessor's, but right in its own way. Watching him watch other members of his family is one of the distinct pleasures of this edition.
Even with some caveats, though, "Smoke on the Mountain" remains a rare, moving and funny piece of entertainment, unlike anything else you are likely to see on area stages. After seeing it again, I took a visit to YouTube and looked at other theaters' versions. None compared with the quality production Beef & Boards is offering.
When the sequels come around again (as I suspect they will), I'll happily pull up a pew.•
__________
This column appears weekly. Send information on upcoming arts and entertainment events to [email protected]
Please enable JavaScript to view this content.