Sad to report that, in some areas of central Indiana, "going out for Italian" still means a run to Fazoli's or Olive Garden. But there are pioneers fighting that culinary problem area, and one local success in the battle to bring authenticity to Indiana Italian food is parked in a shopping strip just off Interstate 65 in Greenwood.
I speak of Cannoli Queen (1279 N. Emerson Ave., 882-1908), a 2-year-old spot whose name might cause you to skip over it when thinking of a place to have lunch or dinner rather than just an indulgent treat. This Queen is well worth checking out, though, with or without a sweet tooth.
I stopped in for lunch on two recent occasions and, both times, the café staff proved welcoming, the sandwiches fine (although not destination-restaurant memorable), and the dessert samples on the counter abundant.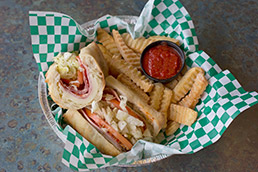 The Gabagool, right, is packed with Italian meats. (IBJ Photo/ Aaron P. Bernstein)
For lunch, there's a lineup of grinders, all $8.75 and served with Italian Fries (crinkle-cut potatoes with a heavy sprinkling of parmesan cheese).The Meatball offered dense orbs in a surprisingly subtle red sauce. The Italian Beef featured housemade sirloin tip beef with a hint of onion, more-than-a-hint of pepperoncinis, and shreds of mozzarella seemingly sprinkled on as an afterthought rather than melted on top. The Gabagool (which is a fun sandwich name to say. Go ahead. Try it.) takes the same soft roll and packs it with thin slices of Genoa salami, sweet and hot capacola, and mortadella rounded out with lettuce, tomato, spices, vinegar and extra virgin olive oil.
If you haven't gotten your fill of counter samples, there's a nice variety of Italian pastries, which rotate at the whim of the kitchen. Available for dining in or taking back to the office (hint, hint), their prices aren't posted, but most of the cookies and biscotti will run you around $1. Of course, the Cannoli ($3 for the original and $4 for a chocolate dipped) are mandatory and not disappointing.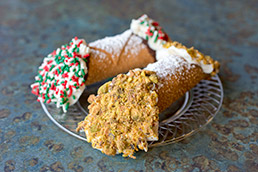 At Cannoli Queen, the title treat isn't stuffed in advance – the better to keep the shell crisp. (IBJ Photo/ Aaron P. Bernstein)
Some other things you should know:
• The biscotti is soft. Yeah, I know. But that's a deliberate choice. The Queen and her kitchen court want you to taste the ingredients, not just the coffee you are dipping it into.
• Entrees, beyond the sandwiches—including Linguini with Shrimp, Chicken Parmesan and Re'Re's Lasagna—are sold only after 5. These are, however, available in family style, serving three to five. I'm sure more than one Greenwoodian has ordered a tray and then pretended to have created it at home.
• The Italian music plays softly here. A nice, subtle touch that adds atmosphere without turning the place into an Italian cartoon.
• Timing is everything. As this issue was going to press, I discovered that this family-owned eatery will be closed through July 22 for the owners to go on vacation. But, trust me, good things will come to those who wait.•
—Lou Harry
__________
Third in a month-long series of reviews of game-piece restaurants.
Please enable JavaScript to view this content.