It was a bad decision that turned out well.

My self-imposed hot dog hiatus ended this month with a trip to downtown favorite King David Dogs (135 N. Pennsylvania St., 632-3647), which offers an inventive array of toppings to accent its all-beef franks. How can the culinarily curious say no to choices like fried egg, pineapple relish, and macaroni and cheese?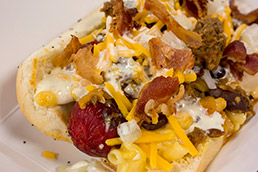 Just about any topping you can imagine can be added to a King David dog. (IBJ photo/Aaron P. Bernstein)
The eatery's quarter-pound wieners are made using a recipe that dates back to the 1940s, when owner Brent Joseph's grandfather and great uncle started Hene Meat Co. after immigrating to Indianapolis from their native Germany. (If red meat's not your thing, a darn good chicken sausage also is available.)

With maximum decadence my goal, I opted for a new creation: the Bad Decision Dog ($5.99), a hefty beef hot dog on the standard steamed poppy seed bun, smothered in chili, bacon, onions, mac and cheese, ranch dressing, and cheddar cheese. Oh. My. Goodness.

It was more than a mouthful, to be sure, but somehow everything held together well enough that I didn't need the fork I picked up as a precaution. Every mouthful was a palate-pleasing combination of complementary tastes and textures.

My less-daring friend opted for a Pretzel Dog ($4.99), the standard wiener served on a pretzel bun with a choice of toppings. Although her preferences were more traditional—brown mustard and sauerkraut—her dog disappeared almost as fast as mine did.

I lured her into the abyss with our shared side, however. The Monster ($5.99) has been on my to-try list for years. Listed on the "Not Dogs" portion of the menu (separate from the more-modest side dishes), it features King David's fresh-cut fries and addictive tater tots topped with nacho cheese, chili, bacon, onions and jalapenos. Ranch dressing comes on the side for dipping. And dip we did, adding tanginess to the cornucopia of flavors.

Sadly, we ran out of room before we could give in to the temptation of a half-pound Carol's cookie shipped in from Chicago. I know from experience that the dense treats ($2.49) can push "comfortably full" into "miserable" territory in just a few bites.

Bad decision? Probably. But it also turned out well.•

__________

Fourth in a month-long series of game piece restaurant reviews.