Once again, the Indianapolis International Film Festival (running through July 28) has an overwhelming number of movies on its schedule. And, once again, there are only so many hours in the day to see them. In the weeks leading up to the fest, I screened more than a dozen—including, as jurist, the three finalists, which I'm sworn not to disclose.
Having only scratched the surface of the wide-ranging lineup, I won't offer a best list, but I'm still comfortable pushing you toward two remarkable, if downbeat, films—one Indiana-connected and one not. And I can recommend a few others, with reservations.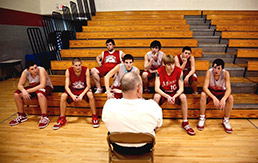 "Medora," focuses on a winless basketball team and its town. (Photo courtesy of Indianapolis International Film Festival)
The Hoosier-related one is "Medora," a gutsy documentary about the losingest team in Indiana high school basketball. There are plenty of reasons for the Medora Hornets' long streak of goose eggs in the win column, chief among them the fact that the Jackson County town has one of the few remaining unconsolidated schools in the state. With a senior class numbering in the dozens, it's no wonder the team has trouble competing.
But to the filmmakers' credit, this is not a movie where "Gonna Fly Now" blasts during a training sequence, inspiring the kids to greatness. Basketball blunders are only a small part of the problems facing Medora, which is representative of small towns across America where the disappearance of factory work left a population with a coin-flip choice of hopelessness or relocation.
The "Medora" filmmakers (including Found magazine creator Davy Rothbart) capture the humiliating games, yes, but also the limited choices, the petty crimes, the military recruiting, the family messes, and the awkwardness of being an adolescent in an environment where just doing OK is a remarkable achievement.
No, it doesn't offer any answers—and its final few minutes try to make a case that the rest of the film hasn't supported. But I can't recall ever watching a sports film where I wanted so badly for a team to win—on and off the court.
Sports films are common at festivals—especially Hoosier ones. So are artist documentaries. This time, IIFF offers "Persistence of Vision," chronicling the decades-long attempt by visionary Richard Williams to create a full-length animated movie epic.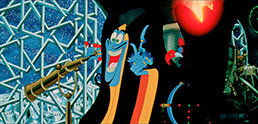 "Persistence of Vision," tells of an animator who loses control of his work. (Photo courtesy of Indianapolis International Film Festival)
Unlike most visual arts, though, movie-making on this scale requires millions of dollars, which Williams attempts to acquire through his London studio primarily by crafting movie title sequences (including, famously, some of the Pink Panther films) and commercials (remember the one where the muscle-bound guy climbs a cliff to slap Jovan onto his cheeks?). Serving as animation director on the ground-breaking "Who Framed Roger Rabbit?" certainly helped, too.
But this is not an artist-realizes-his-dream chronicle. And what happens to Williams can be interpreted as the expected fallout from obsessive arrogance, the fate of an artist trapped in a commercial business, or somewhere in between. Whatever the case, it's a heartbreaking study of a man driven to perfection but having to deal with complex economic and cinematic realities.
For a more commercial crowd pleaser, consider "The Bounceback." While it can be as crude as "American Pie" or "The Hangover," this well-made independent somehow manages to stay endearing, offering a surprisingly honest twist on the romcom genre.
In it, an Austin-based couple has split to go separate coastal ways. But when he finds out via a Facebook post that she is visiting a friend back in Texas, he decides to follow his romantic instincts and hop a plane to "accidentally" run into her. The film smartly manages to keep the couple separate through most of its running time, allowing them to trek through Austin nightlife (including an "air sex" competition, which is like air guitar but, well, you get it) and meet some surprisingly human characters along the way.
In all, "The Bounceback" is much brighter, funnier and richer in character than your average Hollywood Will they?/Won't they? romance. And its ending doesn't feel decided by a focus group.
Speaking of romantic comedies, "In Return" should satisfy those who want a more PG-13 date-night flick—you'll just have to get over its logic-defying ending. Up to that point, it's a charmer about an aimless guy who falls for a woman he meets on the street one night—a woman he doesn't realize lives on the streets.
As for more sports films, "Dream Team 1935" doesn't offer many surprises once you learn that the scrappy, underdog Latvian team won the first European basketball championships. But it's beautifully shot (think Baltic "Hoosiers"), doesn't hide the fact that excellence requires more training than just a single ball-shooting montage, and features the expected-but-nonetheless-throat-lumping rundown of what happened to the players and coaches after the big game.
Some of the other festival films I've already caught proved worthwhile if less successful overall. "Hey Bartender" offers an interesting, fast-moving, behind-the-scenes look at the craft bartending world but loses momentum when it opts to shift focus to a bar-of-the-year competition.
Similarly, "Out of Print" is an insightful look at the changes in the book publishing industry and how we look at the printed word. Avoiding easy answers, it's fascinating … until the final quarter or so when it turns into a too-obvious plea for teaching literacy to kids.
"They Wore the Red Suit" is terrific when it delves into the history of those who have made a living playing Santa Claus (of course, Santa Claus, Ind., serves a key role). The downside is that it's framed as the filmmaker's journey, which comes across as condescending. His story is far less interesting than the Santa-stand-ins we meet.
Still on the not-so-short short list of films I hope to see before the fest wraps up: "Liv and Igmar," a documentary about the relationship between the actress and the filmmaker, "Bending Steel," a look into the lives of old-time circus strongmen, and the festival closer "Don Jon," which marks the writing and directing debut of actor Joseph Gordon-Levitt.
And I haven't even started on the shorts yet.
Note: Most screenings are at the Indianapolis Museum of Art, but this year's fest includes one-night-only, on-location showings as well. For a full schedule, visit indyfilmfest.org.•
__________
This column appears weekly. Send information on upcoming arts and entertainment events to lharry@ibj.com.
Please enable JavaScript to view this content.