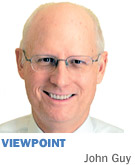 Not-for-profit staffs and boards occasionally stub their toes by "firing" or replacing longtime volunteers.
For example, a well-known Indianapolis not-for-profit recently "requalified" more than 40 volunteers, some having served more than 10 years. The action was motivated by a belief that new people would perform better, and by the unusual circumstance that dozens of others were on a waiting list, hoping to perform the designated task.
Both the experienced volunteers and those on the wait list were requested (required?) to take an online test. At least two of the experienced volunteers refused, stating the obvious that the decision-maker already knew their skills and foibles. Both expressed bitterness, saying they felt the organization was disloyal and unappreciative of past service.
(Curiously, one of the two who did not take the test was nevertheless invited back.)
A similar phenomenon appears on the boards of most not-for-profits because, inevitably, some board members perform better than others, are more active, and donate more money. At some point in almost every administrative year, the active persons publicly state that "weaker" board members should be removed. The feeling is especially strong among board members who donate the most money, and therefore believe that every board member should donate, too.
Service clubs experience comparable dynamics. Members who attend most meetings and come out for practical volunteer service are sometimes seen publicly bitter toward other members who do not appear to fulfill theoretical minimum standards of activity.
Fortunately, most volunteer groups resist the urge to purge their leadership and membership, but not so the not-for-profit that requalified its volunteer corps, and ignored the potential economic cost.
Long-term volunteers and members, whether active or not, develop a devotion to an organization that is frequently represented in lifetime gifts and bequests from their estates. The prominent examples are janitors, widows and mailmen, persons not believed to have significant assets, who leave hundreds of thousands of dollars to an organization they loved.
Local philanthropist Ruth Lilly gave more than $100 million to The Poetry Foundation, reflecting an activity she loved through more than six decades. If, along the way, a Poetry Foundation board member or staff member had suggested that Lilly was not sufficiently active or supportive, or criticized her in any way, including her poetry, the Poetry Foundation would not have benefited.
Criticizing and dismissing are inherently nonproductive, but become especially irrelevant when alternatives are considered.
Instead of dismissing current volunteers so that others can participate, the solution is to create more volunteer positions by dividing the labor among more committees. If the organization desires to change its selection procedure, it can "grandfather" all persons previously selected and, for the new volunteers, create and publish a limit on term of service.
These steps eliminate bad feelings, although a limit on term of service should be carefully evaluated because the long-term participants are most likely to make meaningful bequests.
Some suggest that no other nation generates the number of volunteers and philanthropists as does the United States. While unprovable, it still suggests an attitude toward life and service that should be maintained.
An element in preserving is careful attention to the personal needs and feelings of every individual.•
__________
Guy is a financial planner, president of Wealth Planning & Management LLC, and author of "Middle Man, A Broker's Tale." Send comments to [email protected].
Please enable JavaScript to view this content.