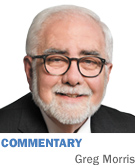 We're headed into a great time of year. I always look forward to August and September and the transition from summer to fall. Once August hits, activities and the daily schedule always seem to pick up pace. And before we know it, we'll be celebrating New Year's Eve and wondering where the year went.

In the next few weeks, the kids are headed back to school. That's always an exciting time. Not just for the kids, but for the parents, too. When the kids get back in school, a sense of normalcy usually returns to the household. There's more structure for days that all too often seem out of control. More structure and less stress at home boosts productivity at work, and that's a good thing.

I don't have school-age children anymore, but the back-to-school ritual hit me this past week when I tried to schedule an August meeting with managers of our company. I threw out a date and one manager said, "Sorry, I won't be here. That's move-in day at IU." Another offered, "Yes, I won't be in, either—its move-in day at Notre Dame."

Sounds like fun. I want to go back to college. Can I move in, too?

August and September give us the return of football. Now that's something to get excited about. It'll be all football, all the time. There's youth football, high school football, college football and pro football. The Colts have four preseason games in August and four regular-season games in September, with half those games being played here in Indy. All this football attracts big crowds and, along with the excitement, creates commerce.

When people are happy, they tend to spend more money and that helps drive our economic engine. August through December are great months for generating revenue. As we all know, fourth quarter is the make-or-break time for many businesses. Holiday spending is always critical and a great sales boost. So, we've got a lot to look forward to in the months ahead.

I've painted a picture of optimism about the coming fall months—back-to-school excitement, fun activities and hopefully a strong business climate through the end of the year.

But I know it's difficult for many folks to stay positive, no matter what time of year. I know there's a lot to be upset about. With our 24-hour news cycle, we can easily stay mad and depressed most of the time if we listen, watch and read too much of the garbage that's being hurled at us every minute of the day.

Information and knowledge are power. I won't argue that. However, my disclaimer is that it has to be reliable information to be useful. The trick is sorting through what we're exposed to every day to find that reliable and useful information. And given all the negative news coming out of Washington, sometimes we forget we have some pretty great things going on in our own lives right here in the heartland.

We're the keepers of our own attitude. We can choose to be negative most of the time, or we can choose to be positive. Coming from a sales and sales management background, I've always believed that attitude can affect sales results about 20 percent one way or the other, given the circumstances you have to work with. In other words, you can control only so much. Given the market conditions, what is the best result possible, assuming you're doing most of the basics correctly?

Using a zero line of neither positive nor negative, I believe a staff that is motivated and generally exhibits a positive attitude can achieve up to about 20 percent more sales than that zero line. Conversely, I believe a staff that gripes all the time and demonstrates a perpetually negative attitude will produce about 20 percent less than that zero line. So, you can see that's a 40-percent swing, simply based on attitude and the productive work that results (or not) from that attitude.

I started this column by pointing out it's a great time of year. I've got a positive attitude as we work toward putting another year in the books. In closing, I'd like to tweak a line offered by "the most interesting man in the world" in the Dos Equis beer commercials—"Stay positive, my friends."•

__________

Morris is publisher of IBJ. His column appears every other week. To comment on this column, send e-mail to gmorris@ibj.com.