When Dr. Craig Brater became dean of the Indiana University School of Medicine in 2000, he vowed to vault the school into the top 10 nationally for medical research.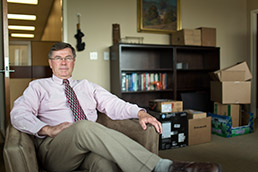 Dr. Craig Brater, retiring IU med school dean (IBJ photo/Aaron P. Bernstein)
Under his leadership, IU ramped up research like never before. It doubled its number of research-oriented faculty to 700, doubled the amount of research space for them to work in, and doubled the revenue from research grants and contracts to $267 million annually.

But that effort hardly even budged IU in the rankings. When Brater became dean, IU ranked No. 42 among all medical schools for funding from the National Institutes of Health—a proxy of its research enterprise. Last year, IU ranked No. 40.

IU's ranking in overall medical research expenditures—regardless of where the funding came from—is 36th nationally—up just one spot since 2000.



"We pretty much doubled everything," said Brater, 67, whose last day will be Aug. 31. "But I didn't anticipate that the people we were trying to catch would be growing at the same rate we were."

That record of treading water in the medical research arms race points up the fact that Indiana has a long way to go before it has enough fuel pumping through one of its key engines for life sciences innovation—universities—to truly spawn the nation-leading cluster of life sciences entrepreneurs that state leaders have been seeking the past decade.

Indeed, university research statewide in the life sciences languishes at No. 22 in the nation. In states like North Carolina, Massachusetts and New York, universities do more than twice as much life sciences research per thousand residents.

The underperformance by universities is certainly offset to some extent by the R&D prowess of Indiana's life sciences companies, such as Indianapolis-based drugmaker Eli Lilly and Co., Indianapolis-based ag biotech firm Dow AgroSciences LLC, Bloomington-based medical-device maker Cook Medical Inc., and Warsaw-based orthopedics firm Zimmer Holdings Inc.

But even with that, Brater acknowledged that both IU and the state, in spite of their progress since 2000, need to do more on the research front. That's because, in Brater's view, central Indiana still does not have a truly vibrant cluster of startups based on scientific breakthroughs.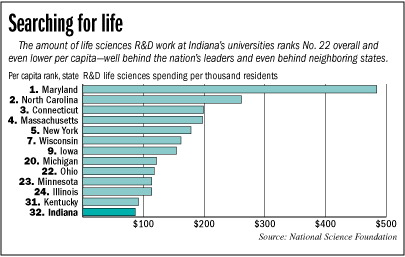 "We've got a long way to go," he said.

Pete Kissinger, a Purdue chemistry professor who has founded several life sciences companies, said IU's research efforts are critical to the life sciences, but need more time to grow.

"Culture change on average takes 20-25 years. We are heading in the right direction for sure," Kissinger wrote in an email.

But Dr. Phillip Toth, CEO of the Indianapolis-based Midwest Institute for Clinical Research, said the IU medical school has failed to work well with large life sciences companies to help conduct pieces of their research.

"You've got to be more responsive to industry. There's a lot of revenue being lost here," Toth said.

Brater defended IU's record of attracting industry funding. But he acknowledged that, with federal research spending stagnant, more research funding in the future will come from private industry.

That's why, he said, he was headed to a lunch at Covance, a large conductor of clinical trials, earlier in July. And it's also why he supports the Indiana Biosciences Research Institute, which aims to raise industry support to recruit 100 new scientists to Indiana.

High-stakes game

Brater's time at IU can be described, more than anything, as an attempt to catch IU up in the world of medical research.

For its first 80 years of existence, the IU medical school focused overwhelmingly on training doctors.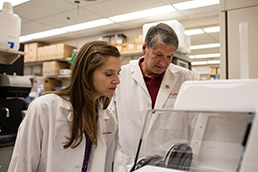 Melissa Fishel and Mark Kelley, who study pediatric cancers, are among the 700 faculty members who conduct research at the Indiana University School of Medicine. (IBJ photo/Aaron P. Bernstein)
Brater was the first professor recruited to the school in an attempt to change that course. He was hired in 1986 by Dr. Gus Watanabe, then chairman of the Department of Medicine at IU.

"He told me, 'I don't care if you never see another patient. I want you to build a strong research program,'" Brater recalled of the late Watanabe.

Four years later, Brater replaced Watanabe as department chairman, and it was then his job to recruit researchers to the school.

At the time, the IU medical school had more cash to work with because its professors' medical practices were growing and bringing in more money.

But recruiting medical researchers is a high-stakes game. In today's figures, it costs $3 million to $4 million for IU to recruit an established researcher—who already has a stream of funding from the National Institutes of Health—and his or her team of scientists.

Even to recruit a young researcher coming out of one of the top medical schools costs about $1.25 million, Brater estimated. That's because IU must pay salary and benefits and provide lab space for three to four years before the researcher can secure enough grants and contracts to be self-supporting.

Big sales job

When Brater became dean in 2000, he still had a big sales job to do to convince city and state leaders that research at the medical school would be vital to growing a life sciences cluster here.

"That was kind of news to people," said David Johnson, CEO of BioCrossroads, an Indianapolis-based life sciences business development group, which Brater chairs. "Craig was really that person at the medical school who led that change in thinking, saying that these rankings actually matter."

Brater got significant help right after he became dean. The Indianapolis-based Lilly Endowment responded to his pitch with a $105 million grant to launch the Indiana Genomics Initiative and hire 75 researchers. Since then, the endowment has followed with $110 million more in funding for recruitment efforts.

Those grants created a space problem for IU. But the Legislature agreed to fund a series of new research buildings that added 700,000 square feet of space from 2003 to 2009.

Soon, a new neuroscience research building next to Methodist Hospital will add another 74,000 square feet of research space. And the Legislature earlier this year signed off on another $25 million research building.

Brater will pass the dean's baton to Dr. Jay Hess, a pathologist from the University of Michigan Medical School, on Sept. 1.

Brater, however, is trying to give Hess a running start to further grow IU's research efforts. He even has two cost scenarios laid out for what it would take to boost IU into the top 10 of medical schools.

To reach the top 10 of public schools in terms of NIH funding, IU would need 152 more researchers. That would cost $114 million in startup costs and $23 million more per year in its budget—but no new buildings.

To reach the top 10 overall, IU would need 400 more researchers. That would require $300 million in startup cash, $60 million more per year in its budget, and a good amount more lab space.

But Brater, describing himself as a "pathological optimist," said he still thinks IU can get there.

"As I look around the country and see what's going on at a lot of places," he said, "I think we're better positioned than virtually any other place in the country."•