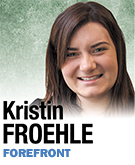 In April, Gov. Mike Pence spearheaded a bipartisan effort around one item most Indiana residents can stand behind: job creation.
Championed by Democrats and Republicans alike, a 16-member Career Council was approved in hopes the group could help some of the 250,000 Hoosiers without work. The council will identify "skills gaps" in the work force and make recommendations about further job training for the state.
However noble this undertaking might seem, it is difficult to identify exactly how the council will make any real change for Indiana employment.
Timing is the first major obstacle. The group has already gotten off to a late start, with the announcement of its members coming months after the legislation passed, citing delayed funding for the unpaid council.
This puts the newly appointed group under a time crunch, given that the council will have merely two days between the preliminary July 29 meeting and Aug. 1 deadline to produce its initial report. The council will then have only four additional months to provide recommendations for the General Assembly to consider this winter.
Assuming the council can comply with the strict time line Pence requires, members may find Indiana has already begun its journey toward decreased unemployment, without the assistance of a governor-led effort.
Pence has spoken repeatedly about the need for job training outside of the traditional four-year college education. The governor discussed international job skills training alongside German ambassador Peter Ammon, who told crowds that not every student was meant to be a neuroscientist and that important manufacturing jobs were being left unfilled in Indiana. Indiana, the governor says, needs to refocus on skill training not requiring a four-year degree.
The announcement of this as a major barrier to employment is baffling, given that nontraditional job training institutions like Ivy Tech Community College have seen tremendous growth. The school's admissions increased by 50,000 students in the past five years—an expansion occurring not only before the creation of a council, but also before Pence's time.
What will the council say about the increasing job training in Indiana at institutions like Ivy Tech? A simple "keep going" seems rather superfluous.
Beyond two-year institutions, the governor has also touted the German-based Skills Initiative in which high school students are job-ready upon graduation, with technical skills most high school students currently lack. Apparently the $100 million being spent on high school vocational training could be better appropriated.
Even if the hypothesis holds true, what can the council bring to the table that the regional work councils the governor signed into legislation cannot accomplish?
With strict deadlines and a mission that appears to be taking care of itself, the Indiana Career Council seems a waste of time for the notable Hoosiers who have been asked to serve by the governor. Not only is this initiative fruitless for council members, it is also a waste of time for the many Hoosiers who will hear this council will be the cure-all for unemployment.
It's difficult to oppose any promising jobs initiative, a fact the governor well knows. It is even more difficult to oppose a bipartisan group of important members of Indiana society.
But it is not difficult to oppose a ruse of the governor's to show Hoosiers he's serious about jobs.
It won't take long, though, for Hoosiers to realize this council is smoke and mirrors, and that it won't make any real strides toward job creation.•
__________
Froehle is a senior and Wells Scholar at Indiana University majoring in business, and a former White House intern. Send comments on this column to ibjedit@ibj.com.
Please enable JavaScript to view this content.