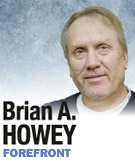 These past few weeks, we've seen more sclerosis in Washington, this time with the farm bill. On a topic that begged for compromise, everyone dug in, and there was celebration in some quarters even as they were spitting ashes out of their mouths.

Next up comes the immigration package, with House Republicans overwhelmingly balking at the Senate-passed bill despite warnings from Speaker John Boehner about the political consequences.

Later, we'll get another debt limit faux crisis.

It is a city of gangs that can't shoot straight, of rhetoric akin to methane seeping out of a melting tundra. Gallup has congressional approval at 10 percent, another historic low.

A new book, "The Metropolitan Revolution," by Bruce Katz and Jennifer Bradley of the Brookings Institution, describes what New York Times columnist David Brooks calls a "power inversion."

As the federal government becomes less energetic, city governments become more so.

Katz and Bradley describe a country segmenting slightly into divergent city states. Society is clustering.

In an era when the nuclear two-parent family was the key demographic unit, it made sense to think of America as a suburban economy with common needs.

But now two-parent nuclear families account for only a fifth of households. The young, old and single make up a huge slice of the population, and they flock to density. According to Robert Puentes of Brookings, the share of young people with driver's licenses is plummeting. Public transit ridership rose 32.3 percent from 1995 to 2011.

In "Metropolitan Revolution," the authors note that economic changes reinforce regional concentration.

In Indiana, we have such clusters, like orthopedics in Warsaw and the life sciences triangle of Bloomington, Indianapolis and West Lafayette.

When I think about who's getting stuff done, who's changing the dynamic, I think of Indianapolis Mayor Greg Ballard, who is already systematically changing transportation. There are bike lanes everywhere and bike depots (and I'm seeing more and more people pedaling these days); his electric hybrid city fleet; and, coming soon, the electric vehicle sharing system.

All while the General Assembly debates the old-fashioned concept of mass transit, some appearing oblivious to the behavior shifts right before their windshields.

Kokomo Mayor Greg Goodnight has started a free public trolley system. Hammond Mayor Tom McDermott is using casino money to send local kids to college.

These public servants are changing the equation and getting things done.

Brooks points out that, because issues on the regional level are so tangible, it is possible to debate new proposals without getting immobilized by the big government-versus-small-government frame. Republican mayors tend to be more activist than their congressional counterparts, and Democratic mayors tend to be more business-friendly.

They become pragmatic problem-solvers.

I've long said that mayors have a tough time moving up the perceived political food chain. In the television age of Hoosier politics, only Dick Lugar, Vance Hartke, Joe Kernan, Robert Rock, Nancy Michael, Winfield Moses and Frank McCloskey were able to forge a political career after city hall. Paul Helmke, Stephen Goldsmith, Mike Harmless and Bill Hudnut couldn't.

Now I'm beginning to wonder if mayors are positioned to eclipse the power of members of Congress.

Why trap yourself in a maze of hectoring ideologues and people who pick fights, but can't get anything done because compromise and pragmatism are dirty words?•

__________

Howey is a third-generation Hoosier journalist who publishes Howey Politics Indiana. Send comments on this column to ibjedit@ibj.com.