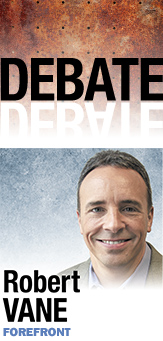 Question: Which presidential candidate will Hoosiers be most likely to support in the 2016 primary election?
Answer: Let's assume for now, with appropriate disappointment, that there are no Hoosiers on the ballot.
Hoosiers will support the Republican candidate whom they believe to have the best chance of winning the White House. Frequently, that candidate is someone they believe is a substantial improvement over the last person to lose the presidential election.
Ronald Reagan looked even better in 1980 when compared to the 1976 version of Gerald Ford. George Bush was a more attractive candidate for Hoosiers in 2000 than Bob Dole in 1996.
Dissecting why campaigns are lost is an essential part of running a winning campaign in the next cycle. Despite the struggling economy, voters supported President Obama over Mitt Romney, who had a better plan to create jobs.
Unfortunately, Romney was simply unable—and did himself no favors with some of his rhetoric—to connect with middle-class voters. He also was unable to convince the electorate that he had in any way suffered personally, or that he knew what the wide swath of uneasy Americans were experiencing.
So, in a field that could include strong contenders such as New Jersey Gov. Chris Christie, Wisconsin Gov. Scott Walker, former Florida Gov. Jeb Bush and others, my choice for the person Hoosiers are most likely to support is U.S. Sen. Marco Rubio.
Rubio, of all the potential candidates, has faced the toughest obstacles while seeking the American Dream, and, I believe, that will make him the most able to articulate his vision for America in a way that will resonate with voters.
Rubio's parents came to America from Cuba in hopes of building a better life for themselves and, more important, for their children.
His family faced many hardships, not the least of them financial. Rubio's understanding of his parents' and grandparents' struggles enables him to relate to the millions of Americans who are unemployed or underemployed and losing hope.
Like most Americans, Rubio doesn't have an Ivy League education. And like most Americans, he spent many years writing checks to pay off his student loan debt—which he accomplished last year.
Rubio's rise to the national political stage started at the grass-roots level. He was first elected as city commissioner in West Miami and then made his way to the Florida House of Representatives as the victor of a special election runoff (that he won by 64 votes). He would later become the first Cuban-American speaker of the Florida House.
The campaigning expected in local and state legislative service should help prepare Rubio for the grass-roots politicking that can make or break presidential candidates in the traditionally early primary states of Iowa, New Hampshire and South Carolina.
A young, Spanish-speaking Republican who worked his way to become a national leader, Rubio brings his middle-class background and an amazing ability to articulate his life story. His speech at last year's Republican National Convention was universally praised.
Hoosiers will vote for the person who they believe both understands their daily struggles and is best equipped to make life better for them and their children. In 2016, that person is Republican Sen. Marco Rubio.•
__________
Vane, a U.S. Army veteran, has worked for Mayor Greg Ballard, and currently owns the public relations firm Veteran Strategies. Send comments on this column to [email protected].
Please enable JavaScript to view this content.