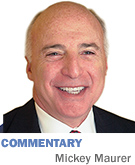 Blessed with the electrifying Indianapolis 500 mile race in May and the resurgence of the Indiana Pacers, our community is bursting with civic pride. I too am proud of the achievements of our athletes, but professional sports are not high on my list of civic pride motivators. Public safety, public education, community leadership and cultural and recreational facilities top the list and were the subjects of my last four columns. This is the final column in the pride motivator series.

No. 5 on my list is economic development. Is there anything here we can be proud about? Within one generation, Indianapolis has lost headquarters for BrightPoint, Guidant, Meridian Insurance, Indianapolis Power & Light, Indiana Bell Telephone, Public Service Indiana, Peoples Bank, First Indiana Bank, Merchants Bank, the Indianapolis Water Co. and many other important corporate contributors to the local economy. In most of those cases we lost executives—quality leadership and community involvement—exacerbating the effect on economic development.

Businesses across a broad spectrum are adversely affected when a headquarters is lost. Our firms suffer when goods and services are no longer purchased locally. The mediocre occupancy rate in downtown office space is a direct result of vanishing downtown headquarters. Another victim of this malaise is the downtown mall. Its gradual failure as a shopping venue and its conversion to office use is a plague on office building ownership in Center Township.

We can be proud of the home offices of WellPoint, Eli Lilly, The Finish Line, Simon Property Group and Emmis Communications. AES, the out-of-state owner of IPL, should be applauded for creating a regional headquarters in Indianapolis. But we have not been successful at the difficult task of enticing corporate headquarters to Indianapolis—the ace in the deck. (My record at the state level on this endeavor was not much better.)

In the last year, Deron Kintner and his predecessor as deputy mayor for economic development have helped attract or retain 8,700 jobs, including significant expansions at Eli Lilly, ExactTarget, Roche, The Finish Line and Appirio. Appirio is an example of the strength and vitality of our technology sector. This is a cloud-based San Francisco company that chose Indianapolis for its second U.S. office. Kintner says recent jobs have higher average wages than in previous years due in a large part to Indianapolis' growing technology sector.

The primordial soup for the development of startup opportunities is brewing in Indianapolis. Initiatives for promotion and education are available for would-be entrepreneurs who want to make their "pitch." Techpoint's Entrepreneur Bootcamp sponsored by Ice Miller; Venture Camp, which provides eight intense weeks of instruction and drills; Powder Keg, where startups can compete for cash prizes; and Developer Town, a converted building at the edge of Broad Ripple with mini office buildings housing startups, are testimony to Indianapolis as a center for entrepreneurial creation. So are the extraordinary numbers posted by homegrown firms ExactTarget and Angie's List, where I am a board member.

As the economy continues to improve, Indianapolis is in a position to take full advantage. Indianapolis is the third-largest city in the country with a AAA rating from all three major rating agencies, and it was named the No. 1 city for college graduates by Bloomberg Businessweek magazine this year. Mitch Daniels likes to refer to a business environment as a sandbox. The Indianapolis sandbox is a great place to play. It's best in the Midwest for low taxes, according to the nonpartisan Tax Foundation; the best place to do business in the Midwest, according to Chief Executive magazine, and the top city for startups, according to Entrepreneur magazine.

Am I bursting with civic pride? Yes, of course. And do I care about our professional sports? I'm a loyal fan. Professional sports support economic development and enrich our culture—important elements of civic pride. But would I rather brag about having the best record of job creation in America? Think about it.•

__________

Maurer is a shareholder in IBJ Corp., which owns Indianapolis Business Journal. His column appears every other week. To comment on this column, send e-mail to mmaurer@ibj.com.