A flood of downtown apartments coming on the market is leasing up quickly, but much of the attached retail space continues to languish as some begin to wonder whether the residential boom will create enough retail demand.

Downtown's retail vacancy in the second quarter stood at nearly 12 percent, and it could get worse with a spate of mixed-use projects in the pipeline. The trendy developments featuring first-floor retail space with residential above are expected to add 3,200 apartment units downtown within the next few years.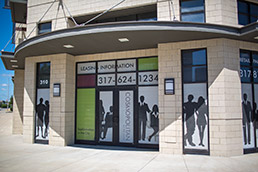 The Cosmopolitan on the Canal has been unable to attract retail tenants to its space. It has resorted to leasing a portion to a local marketing firm. (IBJ photo/Aaron P. Bernstein)
The projects also call for about 170,000 square feet of retail space, on top of large spaces already available at such mixed-use projects as CityWay and Cosmopolitan on the Canal.

Mayor Greg Ballard last month announced that he had chosen local developer Flaherty & Collins Properties to redevelop a portion of the former Market Square Arena site with an $81 million, 28-story apartment tower that will include 43,000 square feet of retail space, ideally for a high-end grocery.

Yet store-front space at some projects remains unoccupied well after completion, even during an unprecedented housing boom that has driven downtown occupancy rates to above 95 percent.

"There's only so much retail that can be absorbed in the downtown market," said Bill French, a retail broker at Cassidy Turley. "Developers really need to look cautiously at how much retail space they're developing and where, and whether there's truly demand."

Net absorption downtown during the second quarter was relatively flat at 294 square feet, and the amount of vacant square footage stood at roughly 430,000 square feet. About half of that is the Circle Centre mall vacancy of 210,000 square feet once occupied by Nordstrom. A chunk of that would fall out of the calculations if the Indianapolis Star closes on a deal to take part of two floors as office space.

Downtown's retail vacancy rate of 11.7 percent last quarter was highest among all submarkets in the metropolitan area besides Pendleton Pike and Washington Square, whose rates are both above 12 percent, according to data from Cassidy Turley.

Location a big factor

Save for the Nordstrom vacancy, market observers say there really isn't much Class A retail space available downtown, particularly in the best locations.

The very best spots move quickly and restaurants are the prime target: Chipotle plans to open in a new building at the northeast corner of Meridian and Washington streets, one door east of Jimmy John's, and Granite City Food & Brewery last month opened in Circle Centre, with an entrance on Illinois Street. Circle Centre manager Simon Property Group Inc. has proposed using much of the first floor of the Nordstrom space for restaurants.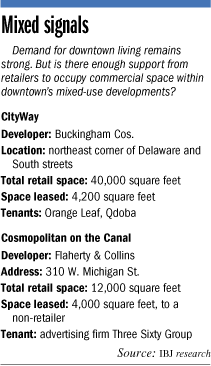 A few of the more striking examples of new, vacant retail space are Flaherty & Collins' Cosmopolitan on the Canal, and Buckingham Cos.' CityWay.

The Cosmopolitan's apartments are 100-percent leased, but it still struggles to attract any retailer to the 12,000 square feet of commercial space. With no takers that met the developer's standards, Flaherty & Collins two years ago resorted to signing branding and advertising firm Three-Sixty Group to take about 4,000 square feet. The remaining space remains vacant.

And the much-heralded CityWay at the northeast corner of Delaware and South streets so far has attracted only two tenants, Orange Leaf and Qdoba, to the project's 40,000 square feet of ground-level space. The Cerulean restaurant is within The Alexander hotel.

Both developers are confident they'll ultimately lease what's available. Perhaps the biggest challenge for the projects is their off-the-beaten-path location: the Cosmopolitan between downtown's core and IUPUI, and CityWay at the northeast corner of Delaware and South streets where a large parking lot formerly stood.

"We knew from the beginning that it would be a new retail area, that retailers would want to see it, feel it and touch it before they would move forward," said John B. Cumming, Buckingham's senior vice president of development.

One of CityWay's biggest benefits is its proximity to such large corporations as Eli Lilly and Co., Rolls Royce Corp. and Anthem Inc., said Cumming, noting that he's fielding interest from prospects and expects to announce more deals.

The Cosmopolitan, meantime, should get a boost from another of Flaherty & Collins' projects, the nearby Axis at Block 400. The $85 million project is under construction on the south side of Michigan Street between Capitol and Indiana avenues and will include a Marsh grocery store and 500 apartments, and a parking garage to replace OneAmerica's surface lots.

Besides the Marsh, Axis will feature about 5,000 square feet of retail space, perhaps suitable for a nice restaurant, CEO David Flaherty said.

"The interest in that space is much higher than when we first did Cosmopolitan," he said. "We didn't get any interest in that."

Residential comes first

Other large mixed-use developments in the works include a $43 million project with 235 apartments and 40,000 square feet of commercial space at the intersection of Massachusetts Avenue, North New Jersey Street and East North Street, where the Indianapolis Fire Department's headquarters is located.

Another is Milhaus Development's Artistry, set to open in November with 256 units on the east edge of downtown within the former Bank One Operations Center. Construction on a second phase of 240 units is slated to begin in the spring.

The ground level likely won't attract much interest from retailers until there's a large enough residential base to support them, acknowledged David Leazenby, Milhaus' vice president of predevelopment services.

"It has potential for 68,000 square feet of retail," he said, "but I doubt that will happen."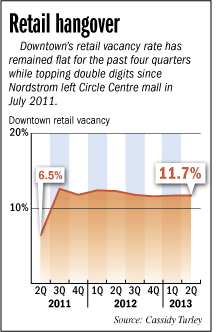 Milhaus finished construction in March on its much smaller, 55-unit The Mozzo at 531 Virginia Ave. All the apartments are leased, but the 1,700 square feet reserved for retail remains empty.

"I'm glad we didn't do any more than that," Leazenby said. "But it was important to us and the neighborhood to have something on that corner."

Still, Leazenby and others think any available space eventually will lease up as downtown attracts more residents and the economy continues to improve.

Bill Ehret, a principal at Summit Realty Group, likened the situation to what commonly occurs in the suburbs.

"You build the rooftops and the retail follows," he said. "Downtown, it's units, but it's the same thing."

Even a few established retailers and restaurants are grappling with space issues.

Scott Wise, owner of the Scotty's Brewhouse chain, is trying to sublease 2,500 square feet of his restaurant at 1 Virginia Ave. to reduce expenses.

The expansive 12,000-square-foot restaurant, which opened in 2009, often has plenty of seats available in the evenings when there are no conventions booked to help drive business.

"There's just a lot of space that's not being used smartly," Wise said.•