Facing pressure to boost the police force and avoid further cuts in city services, Indianapolis leaders head into the next budget season with open minds about a tax increase.
That demonstrates how much has changed in city finances since 2007, when Republican Mayor Greg Ballard—an outsider, anti-tax candidate—tapped voters' outrage over spiking property taxes to upset Democratic Mayor Bart Peterson.

Vaughn
Peterson also pushed through an income-tax hike for public safety, but total income-tax revenue has dropped, and the cry for more police officers is as loud as ever.
"It's like it never happened," Ballard's chief of staff, Ryan Vaughn, said of the 2007 public-safety tax.
The total tax base declined with the 2008 recession, and the state, which collects and redistributes local income taxes, has withheld money to make up for previous over-distributions, City Controller Jason Dudich said.
Marion County's total income-tax revenue has declined from $297 million in 2008 to $273 million this year.
With property-tax revenue held down by constitutionally required caps and the recent income-tax trend, Dudich estimates the gap between revenue and expenses for 2014 will be $55 million.
Ballard, who will present his budget to the City-County Council on Aug. 19, could wait for the income-tax stream, which lags state collections by at least 18 months, to turn upward and spend reserves in the meantime. The city has an $80 million fiscal-stability fund, created from the sale of the wastewater utility to Citizens Energy Group, but Dudich said he would not recommend tapping it because it helps ensure the city's AAA credit rating.
Ballard wasn't available to comment, but Vaughn said an income-tax hike isn't off the table.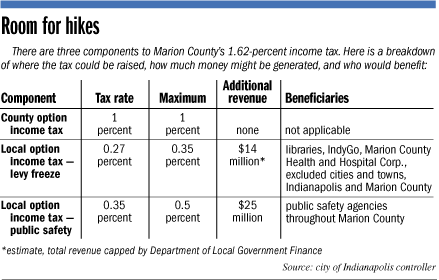 "It's an ongoing conversation," he said. "We're very sensitive to remaining competitive with surrounding counties."
The City-County Council spiked the administration's preferred option for raising revenue on July 29 by voting 18-11 against elimination of the homestead property-tax credit. Income taxes subsidize the credit for homeowners, and phasing it out over two years would have freed up $8 million for the city.
Losing that subsidy would have had a downside for schools, libraries and public transportation, however. The inflow of income tax money gives them breathing room under tax caps. As a result, elimination of the credit would have left them less tax revenue.
Several city-county councilors said that was a deal-breaker.
"We need a more comprehensive package to close this deficit," said Democratic City-County Councilor Mary Moriarty Adams, one of the 15 members of her caucus who voted against eliminating the credit. Three Republicans—Aaron Freeman, Christine Scales and Bob Lutz—also voted against the measure.
Adams said she's had "hallway conversations" with a few other councilors about whether it's time to raise the public safety tax from 0.35 percent to 0.5 percent, a move that would generate an additional $25 million.
The Marion County Income Tax Council—a panel controlled by the Indianapolis City-County Council—has the authority to raise local income taxes.
In the wake of the homestead credit vote, council President Maggie Lewis issued a statement saying elimination of the break would have amounted to a tax increase on "retirees and families."
"It is the council's responsibility to ensure that every option is reviewed, and that we look under every rock, before considering the last option—a tax increase," Lewis said.
As far as a few influential constituents are concerned, the city has gone as far as it can with cost cutting.
"I'm sorry, but people want services," said Jackie Nytes, CEO of the Indianapolis-Marion County Public Library and a former Democratic councilor. The library was forced to cut hours at branches across the city in 2010. Nytes said she can tap reserves to cover the budget this year, but, "I can't do that repeatedly."
Nytes said she's talked to Ballard's office and a few city-county councilors about a slight income-tax increase, which would help the city as well as municipal corporations, including the library, IndyGo and Marion County Health and Hospital Corp.
The Legislature created local-option income taxes to offset the effect of property-tax caps.
"We're not using it as much as we could be because everybody's afraid to raise it a little bit," Nytes said.
Marion County Prosecutor Terry Curry, another Democrat, is talking up a dire shortage of police officers, which he said is apparent throughout the system.
The homicide division is spread so thin, Curry said, that his lead deputy prosecutor once beat the detective to a murder scene and started processing it. Investigations of mid-level drug dealing have taken a back seat, and so has traffic enforcement, he said.
Ballard announced in July—days after the fatal shooting of a teenager during downtown's Fourth of July festivities—a plan to put 156 more officers on the street by the end of next year. Ballard said he'll shift officers from desk jobs and special assignments to patrol duty. He also would hire 100 new recruits by 2016.
But the first class of 50 recruits wouldn't be called for training until fourth quarter of 2014, Curry noted. Meanwhile, about 50 officers retire or resign each year.
That means the total number of officers would drop below 1,500 before the new recruits start working in late 2015, said Bill Owensby, president of the Fraternal Order of Police Lodge 86.
"We need officers now," Curry said.
Curry, who said his only political ambition is re-election in 2014, said he doesn't know whether an income-tax hike is in order, but he doesn't think budget cuts are the solution.
"Clearly, the mayor and the council must, absolutely must, find a way to address those needs," he said.

Nytes
Neither side wants to make the first move.
"If this can't be a collaborative thing, the last thing you're going to see political bodies do is take on the responsibility of a tax increase … just so the other side can use it against us later," said Zach Adamson, a Democratic councilor at-large.
Adamson said an income-tax hike "does have some promise." He added, though, that he wasn't sure how to justify it to voters while the city manages to come up with multimillion-dollar subsidies for real estate development projects.
City-County Councilor Aaron Freeman said he wants new police recruits—and he was one of four Republicans who voted with Democrats on July 8 to override Ballard's veto of a proposal that would have used the city's infrastructure fund, Rebuild Indy, to hire officers.
But Freeman said he's not convinced a tax increase is necessary, especially as long as the Democratic-majority council protects Sheriff John Layton, also a Democrat, from budget cuts.
Any tax increase put forward by Republicans would become an election issue in 2015, Freeman said.
"I'm unwilling to give them that issue, period," he said. "The Democrats have to come work with us in terms of, how do you bridge that gap?"•
Please enable JavaScript to view this content.