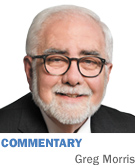 There's been a lot of news about newspapers in recent days. Many folks took notice of the proposed sale of The Washington Post, after four generations of ownership by the Graham family, to Jeff Bezos, the CEO and founder of Amazon. In the same week, it was announced that The Boston Globe is being sold by The New York Times Co. to Boston Red Sox principal owner, John Henry.
The proposed sale price of the famed Washington Post is $250 million, which sounds like a lot of money, but it's not. Considering the newspaper's storied history and large paid circulation, which was the seventh largest in the country in 2012, the value has dropped dramatically over the past several years. The Boston Globe's reported sale price is $70 million. The Times Co. bought the Globe 20 years ago for $1.1 billion.
The trend in newspaper company ownership appears to be away from public company ownership to wealthy entrepreneurs who don't have to deal with the daily pressure of moving stock prices for investors. These entrepreneurs will also have more flexibility in taking risk and investing in innovation with a delayed expectation of return on investment. This will help drive success for their organizations. New Washington Post owner Jeff Bezos knows about patience and long term strategic thinking. Amazon didn't produce a profit until its ninth year of operation.
Chicago based Tribune Co. emerged from bankruptcy last year. It has announced its intention to split its broadcast and newspaper holdings and explore the sale of the newspapers. Tribune Co. owns Los Angeles Times, Chicago Tribune, The Baltimore Sun, and Sun Sentinel (South Florida), among others. Recent newspaper sale prices do not bode well for a good return on the Tribune properties.
The Washington Post reported the following this past week regarding its own sale: "But for much of the past decade, The Post has been unable to escape the financial turmoil that has engulfed newspapers and other 'legacy' media organizations. The rise of the Internet and the epochal change from print to digital technology have created a massive wave of competition for traditional news companies, scattering readers and advertisers across a radically altered news and information landscape and triggering mergers, bankruptcies and consolidation among the owners of print and broadcasting properties."
USA Today reported that the Post's operating revenue has declined by 44 percent in the past six years. That same scenario has been playing out at newspaper after newspaper across the country.
Gannett has certainly had its problems, and we recently reported yet another round of layoffs at The Star. However, Gannett papers are experiencing positive growth with their new digital paywall business model. I'm rooting for The Star's future success. Every major American city needs a strong daily newspaper. And a strong Indianapolis Star is a benefit to all of us.
I've been focusing here on big daily newspapers. It seems the bigger you are, the harder it is to survive. There's one notable exception, and that's The Wall Street Journal. Dow Jones & Co, publisher of WSJ, was purchased in 2007 by Rupert Murdoch's News Corp. for $5 billion. WSJ continues to not only survive, but thrive. It's the largest newspaper in the country, with an average circulation of around 2.4 million copies, and growing. This includes digital copies that are getting close to the one-million mark. WSJ's outstanding menu of print and digital products provides unique and valuable content you can't get anywhere else six days a week. The organization is the gold standard for success in the media world today.
I've written this before, but it bears repeating. We feel we're positioned for future success here at IBJ. We've been more than just a weekly newspaper for several years now. We deliver unique content you can't get anywhere else to a growing audience that has never been larger. In fact, our audience is more than 10-fold larger than 10 years ago when we were just a weekly newspaper. We achieve this through our offerings via the newspaper; daily on ibj.com, smartphones and tablets; and e-newsletters delivered to your email inbox five days a week. And we work hard to develop new products and improve our current offerings every day.
And we're not a public company. We operate with entrepreneurial local ownership. We haven't decimated our newsroom, and we don't spend more money than we make. We're dedicated to serving you, our readers, and we expect to do that well into the future. Thanks for reading and supporting IBJ.•
__________
Morris is publisher of IBJ. His column appears every other week. To comment on this column, send e-mail to gmorris@ibj.com.
Please enable JavaScript to view this content.