We know what the Indiana State Fair does well. That list includes—but is far from limited to—large hogs, fattening foods and timely arrivals of the tram.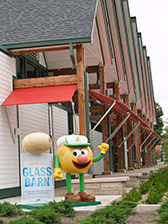 The Indiana Soybean Alliance's Glass Barn, above and below, includes fun, educational interactives. (IBJ photos/Julie Kirkendoll)
But every year, the fair attempts a few new things. I'm not just talking new food creations either. I'm talking about an ice show, a high-dive show and a frontier show—none of which, alas, were performing during my visit.
While I wait for your comments on those, I'll write instead about some of the less scheduled new attractions.
• The most visible is the Indiana Soybean Alliance's Glass Barn, a 4,500- square-foot new anchor to the north side of the fairgrounds that's filled with fun and educational interactives. Electronic screens and the state fair don't usually mix well (see the obnoxious Ford display blaring near the Pepsi Coliseum). Here they add to, rather than diminish, the atmosphere. Particularly engaging: A game in which you compete with four other fairgoers to try to seed, weed, debug and reap the best crop.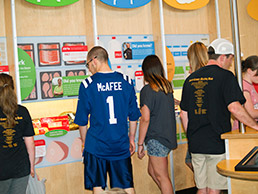 • Less effective is "Get Animated," occupying much of Main Street's Grand Hall. This celebration and explanation of animated movies seems slapdash and random, giving excess weight to the likes of "The Croods" while barely acknowledging true classics. The make-your-own-one-frame-at-a-time display erased our dinosaur flick before we could see it. The Hanna-Barbera clips only served to remind me of how much time I wasted watching such junk. The display boards are far too text heavy. And you'd think that, in Indy, there would be a better "Turbo" snail photo op.
• I'm usually skeptical about product tie-ins, but Lego has done things right with interactive, take-your-time fun located near the covered bridge just north of the midway. On display are an engine model made of Lego bricks courtesy of Cummins, a U.S. map with Lego-built landmarks (although, come on guys, you can do better than that Liberty Bell), and other fun pre-built creations. But Lego is about building, not about looking. And there are plenty of bins of pieces to dig into. I'm looking forward to revisiting to see what pieces get added to a showcase built to house the coolest creations.
Confused about any of these? Need to know show times but used your program to wipe up the butter that dripped from your ear of sweet corn? Now you don't have to spend time searching for the nearest info booth. Instead, just text your question to 451-5366; fair operators are standing by to respond. Or download the new state fair app, although that could mean spending more time looking at a tiny screen instead of enjoying the wonders around you.•
__________
This column appears weekly. Send information on upcoming arts and entertainment events to lharry@ibj.com.
Please enable JavaScript to view this content.