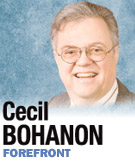 When I read what then-Gov. Mitch Daniels said in an email to then-Superintendent of Public Instruction Tony Bennett about Marxist historian Howard Zinn's work, my immediate reaction was, "My thoughts exactly!" I take great exception to Zinn's characterization of American history.
However, I recalled the admonition of a wise man: The best antidote for bad speech is more speech.
I suggest that a teacher who is using Zinn also include professors Mark C. Schug and William C. Wood's "Economic Episodes in American History" in their class, but that is just my opinion. As a teacher, I don't want anyone micromanaging my syllabus, so I don't think the governor, superintendent or anyone else should forbid any book on any teacher's syllabus.
It doesn't appear that much came from Daniels' and Bennett's outrage. Zinn's tome was on my son's advanced high school history syllabus last year. My son tells me he read passages from the book, but it wasn't central to the course.
By the way, the history course was his best class in high school. He learned how to think and how to write. Moreover, he does not pine to move to Havana, where Zinn received an honorary doctorate.
Perhaps public officials would be wise to heed the admonition every parent gives their teenagers: Assume anything you post on Facebook, write on a blog, or send in an email will be available to everyone in the world until the end of time. I would think politicians would be on to that by now. But this points out a larger issue.
I suppose there are some good aspects to the fact that, in this day and age, almost all communication, even communication intended to be confidential, can be recorded, released and go viral at a moment's notice. I suppose this keeps our elected officials on their toes, but … I fear we pay a great price.
How can anyone, especially a public figure, keep his sanity if he can never express what he truly thinks? Every normal human being gets upset and says things they do not relish being broadcast to the world by megaphone.
I fear that our future public leaders will be marshmallow men and women who are perfectly politically correct at all times but who say nothing, feel nothing, think nothing and believe nothing. They will be mindless robots who astutely follow the political winds but provide no real leadership.
In his 1951 novel "Fahrenheit 451," Ray Bradbury envisions a world where books are banned and, if discovered by the police, are put to the torch by firemen. Was this the result of some evil cabal in government?
When fire chief Beatty explains to the protagonist fireman Montag how they got the job of burning books, he notes it began with what we today call political correctness: "Don't step on the toes of the dog lovers, the cat lovers, Mormons, Baptists, Unitarians, second-generation Chinese, Swedes, Italians, Germans, Texans, Brooklynites, people from Oregon or Mexico …"
As this developed, "magazines became a nice blend of vanilla tapioca" so that censorship "didn't come from Government top down. There was no dictum, no declaration. No censorship, to start with, no! Technology, mass exploitation, and minority pressure carried the trick, thank God."
I may love or hate what you say, but I always defend your right to say it. I also defend your right to think it, say it to your intimate friends, and not have it communicated to the world. But will that be possible?•
__________
Bohanon is an economics professor at Ball State University. Send comments on this column to ibjedit@ibj.com.
Please enable JavaScript to view this content.