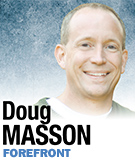 Former Gov. Daniels seems to have a good grasp of Orwell's notion that who controls the past controls the future and who controls the present controls the past.
Emails recently reported by the Associated Press indicate Daniels took an interest in Indiana's history curriculum. In particular, he was opposed to the work of populist history professor Howard Zinn, inclined to take measures preventing teachers from earning credit from studying Zinn's books, and enthusiastic about promoting the conservative pundit Bill Bennett's history book, wanting to make it the "textbook of choice in our State."
Picking winners and losers among history books is important because what we believe about our past influences ideas about who we are and where we should be going.
Neither Zinn nor Bennett would be my choice as a primary text for Hoosier children, and I would not mind if either were thrown into the mix of books presented to college students.
"Shouldn't we strive for objective history books?" a friend asked me. Such a thing does not exist. Space limitations alone require editorial discretion on what to leave out. Then there is the matter of which perspectives to include and the need to construct narratives making sense out of disjointed bundles of whatever facts you include.
There is a fine line to walk when choosing a history curriculum for youngsters. On one hand, as citizens, we want kids to embrace our civic mythology, at least to some extent. We want them to believe that America stands for something good, that we are not descended from fearful men, that we are founded on principles that go beyond short-sighted self-interest, and that they can be proud of our past and should aspire to those principles. Our civic health depends on an inspired citizenry.
On the other hand, a cartoonish understanding of history—where our motives are always pure and the good guys always win—will lead us into the same mistakes, generation after generation.
Most U.S. history texts spend a few paragraphs on the Spanish American War: Cubans were agitating for freedom, the Spanish were doing horrible things, the yellow journalists were trying to sell papers, the Maine blew up, and Teddy Roosevelt charged up San Juan Hill. It was a splendid little war.
Sometimes, the lesson might mention that the Navy smashed the Spanish in the Philippines and we acquired an interest in those islands.
However, like as not, the lesson ends there and the class moves on to World War I. Students aren't taught about the venal urges that kept us in the Philippines or how, before long, our military, fighting guerilla forces in an East Asian jungle, found itself doing the same sorts of horrible things we condemned the Spanish for doing in Cuba.
Later generations, having forgotten the lessons of the Philippines but somewhat remembering Roosevelt's glorious charge, would find themselves back in the East Asian jungles doing unpleasant things to combat guerillas.
Some years after that, officials who learned the wrong lessons from Vietnam—in part because they never learned any lessons about the Philippines—would get us entangled in Afghanistan and Iraq, spending blood and treasure on efforts that would look quite familiar to the 19th century imperialists we have largely forgotten.
The history we teach our children should be a reflection of ourselves, not just as we wish we had been, but also as we really were, warts and all. Then maybe we can become the people we want to be.•
__________
Masson is a Lafayette attorney, author of Masson's Blog and former counsel for the Legislative Services Agency. Send comments on this column to ibjedit@ibj.com.
Please enable JavaScript to view this content.