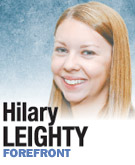 There has been significant discussion this summer about gay rights and marriage equality. Specifically in Indiana, House Joint Resolution 6, the amendment that would permanently alter Indiana's Constitution to define marriage, has produced strong emotions on both sides.
I'm here to tell you as a millennial, as a business student, and as a Republican that HJR-6 is not only bad policy but also bad for business.
If passed, HJR-6 would prohibit future legislators from allowing same-sex couples to marry. Second, the law would prohibit future legislators from allowing legal protections for any unmarried relationship similar to marriage (civil unions or domestic partnerships).
To become law, the amendment must pass with identical language in both houses of two consecutively elected Legislatures. The proposal passed the House and Senate in 2011 and is likely to be up for a vote again by both houses in 2014.
If this requirement is completed, the proposed amendment would be placed on the November ballot.
Recent polls have shown Hoosiers evenly split on marriage equality. Even though the defense of traditional marriage has been a part of the Republican Party's social platform for decades, the party has also always been proud of being the party of small government. It was one of our great founding fathers, President Thomas Jefferson, who said, "That government is best which governs the least."
The Indiana Republican Party has lost sight of its small-government principles. Legislating an amendment to the Constitution to deny basic freedoms to one group of people is not small government. We preach about keeping government out of our health care but are perfectly content to allow government in our bedrooms.
The party, particularly in Indiana, needs to decide whether it truly champions personal responsibility and limited government.
Our state is filled with talented students graduating from universities every year. With Notre Dame and Indiana and Purdue universities, we have three highly ranked business schools, a top engineering program, a fantastic medical school and law schools producing educated, talented Hoosiers anxiously waiting to make their mark on the world, not to mention on the economy.
Gov. Pence often mentions the brain drain or the fact that students are receiving an extraordinary education in Indiana and then leaving to work and live. Policies such as HJR-6 are largely to blame for the brain drain.
Millennials are incredibly tolerant and exceedingly progressive. Educated, cultured millennials do not want to live in a state that arbitrarily strips rights from a small segment of their peers—no matter how low the taxes.
On the other side of the equation, Indiana has fostered an ideal climate for industry—low taxes and reasonable regulation. Companies looking to locate in Indiana will face only one problem—recruiting talent, but ambitious college graduates won't choose to live in a state with intolerant policies such as HJR-6.
HJR-6 not only denies basic freedoms to a select group of the population, it is also an effort to ensure the LGBT community can never gain full equality in Indiana by arbitrarily changing our Constitution. Pence and the General Assembly should not be modifying the Constitution to deny basic freedoms to certain individuals.
Pence, Speaker Bosma, and the rest of the 2014 General Assembly have a unique opportunity to be on the right side of history by voting down HJR-6, we can only hope they take advantage of it.•
__________
Leighty, an Indiana University senior double majoring in marketing and management, is president of the IU College Republicans. Send comments on this column to [email protected].
Please enable JavaScript to view this content.