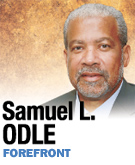 I generally stay away from education issues in my column, but recent thoughts compel me to divert from that practice.
I recently have gone to a number of Indianapolis Public Schools board meetings to discuss the upcoming budget approval. I also recently went to the opening of the Phalen Academy charter school for its first semester, part of the ongoing plan to expand charter schools. Earl Phalen and his staff have done a remarkable job of rehabbing one of our city's eyesores into a modern charter.
I also saw a large yard sign in front of one of our community's Catholic schools saying, "We accept vouchers."
In other discussions, the word on the street is that two of the high schools taken from IPS by the state are at half the student population they had been, but continue to be paid for the students who used to go to the school. I have also been told that another eight to 10 charter schools will open over the next several years.
I am not opposed to competition in K-12 education, but I am skeptical that the current flurry of activities to "improve educational outcomes" is the most efficient way to spend our community's limited resources.
In the past, the Indy I knew was a city that worked together to make improvements. What we have now is a host of disconnected activities that have no coherent community strategy that will increase the likelihood that educational outcomes will improve.
Urban education reform needs a bigger idea than just moving kids from one building to the next. I believe we need to redefine what schools do for kids and families. Thinking we can take children from their life situation for six to seven hours a day and then send them back into it and make a difference in our success rates is foolhardy.
We need quality schools, quality leaders and quality teachers for sure. We also need to support the child and the family in a much more coordinated way. It is only by doing this that we can change the outcomes for our students.
Seventy-five percent or more of urban kids do not finish the semester in the same school they start in. This clearly disrupts the educational progress. As our new superintendent, Dr. Ferebee says, we must know each child by name and need. To do that, we must know the family by name and need as well.
Our community does a lot to support urban families, but we tend to do it in an uncoordinated way and mostly after the crisis occurs. Focusing on families at school would give us a chance to be proactive. It would also bring families to school, where we need them to help support the educational process.
This will require the cooperation of government, business and community resources like we have never done before. It is also a need of all schools trying to serve urban youth—public, public charter, parochial or private.
A systemic approach will help all schools and be done more efficiently. The money we save can be invested in preschool programs, which continue to be an unmet need in our community.
It's a Big Vision, and it can be achieved only by convening the Big Table. Political, business, philanthropic, community leaders—it's time to step up. We need a table where all those who want to improve K-12 develop a plan for our community and our kids.•
__________
Odle is the former chief operating officer of Indiana University Health and CEO of Methodist and University hospitals. Send comments to ibjedit@ibj.com.
 
Please enable JavaScript to view this content.