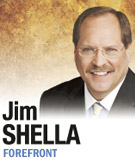 It was a warm, sunny Monday in November when John McCain came to the Indianapolis airport seeking to pull out an Indiana win in the 2008 race for presidency. It was the day before Election Day. Confident Hoosier Republicans were thrilled about the first real campaign rally in this state by that year's GOP nominee.
One Republican, however, didn't share the mood. Tony Bennett. The candidate for superintendent of public instruction paced the tarmac behind the crowd, worrying he wouldn't have what it took to defeat a Democrat named Dick Wood, an opponent who vacationed in the middle of the campaign. Bennett was consumed by anxiety.
I was taken off guard by his behavior both because this is a Republican state where Democrats had never won the superintendent race, and because I had moderated a debate between Bennett and Wood and didn't see much there for him to fear.
Of course, we know now that pretty much everybody at that 2008 rally was misreading the tea leaves. McCain lost Indiana in embarrassing fashion for a Republican (the first GOP presidential loss here in 44 years) and Bennett won.
We soon learned Bennett's leadership style was a lot closer to the basketball coach he once was than the school administrator he later became. In fact, in a private moment, he was more likely to tell you a story about coaching basketball and the enjoyment that brought him than an experience as a teacher or administrator. He is competitive to a fault.
So, as the state's top educator, he pursued a grading system that labeled every school as a winner or a loser. It was the easy-to-read scoreboard any basketball coach could relate to. When Christel House Academy came up a loser, Bennett played referee, the kind who would swallow his whistle during a crucial play maybe or, more accurately, one who might put more time on the clock to help a team he favored.
He changed the rules and set an example no coach, teacher or administrator should follow.
The interpretations of what he did range from criminal (rewarding schools in exchange for campaign contributions, or failing schools so that private entities could take them over at a profit and, just maybe, give his wife a job).
That's for others to decide. Regardless, his emotions got the best of him.
That brings us to Election Night 2012, when Indiana Republicans were celebrating historic wins. Mitt Romney carried Indiana, making it a Red State once again. Mike Pence won the race for governor and the GOP captured supermajorities in both houses of the General Assembly.
Yet again, Bennett was out of step. He was in tears backstage and emotional in front of the cameras. Anger and disappointment were on display.
Glenda Ritz, a librarian in an elementary school with no clear campaign message, had won a race that, it turns out, was a referendum on Bennett, his competitive spirit and his emotions.
In the end, Bennett's basketball coach approach also cost him the job as education commissioner in Florida. When he stepped down, he showed another emotion, defiance. He did nothing wrong, he said, except become a distraction.
When I encounter people who show their emotions on their sleeve—people like Tony Bennett—I'm fond of saying that I'd love to play poker with that person. I'd like to play poker with Tony Bennett.
I'll supply the cards if it's OK with you.•
__________
Shella is WISH-TV Channel 8's political reporter as well as host and producer of the Emmy-nominated "Indiana Week in Review." Send comments on this column to ibjedit@ibj.com.
Please enable JavaScript to view this content.