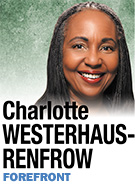 As a child, racial segregation was a fact of my life, whether by law or by custom. In the South, barriers between whites and blacks were rigidly codified by statute before the civil rights victories of the 1950s and 1960s.
But let's not forget that divisions in northern cities were just as rigid. In the absence of Jim Crow laws, many employed another tactic to maintain segregation—urban infrastructure.
In Chicago, alarmed by African-Americans moving from the south side, Mayor Richard Daley commanded planners to re-route the Dan Ryan Expressway to create a barrier between white and black neighborhoods. Detroit constructed an actual 6-foot wall along Birwood Avenue to separate an all-white subdivision from rapidly integrating neighborhoods.
While you might want to nudge me now and start humming "We Shall Overcome" to reassure me and you that we've come a long way since then, let me nudge you right back with this: Income segregation in central Indiana is now even more prevalent, and in many ways more insidious than racial segregation.
Demographic research tells us that Hoosiers are separated more by the size of their bank accounts than by the color of their skin. Income segregation has dire consequences for urban enclaves where residents are trapped in poverty—low incomes and limited buying power leads to an emaciated tax base.
And infrastructure still plays an onerous role. While physical barriers were constructed 50 years ago to enforce racial segregation, neglected infrastructure today separates the have-nots from the have-a-lots.
Suburban communities that market themselves to more prosperous citizens are typically greenfield developments—residential neighborhoods rising from former farmland, tiny downtown nodes expanding into thriving commercial districts. This means new roads, modern water and sewage systems and well-planned pedestrian routes.
However, in the older, urban neighborhoods, residents deal with crumbling streets, impassable or nonexistent sidewalks, and density precluding expansive parks.
The water system is a prime example. Much of "old city" Indianapolis is served by a woefully inadequate storm water/wastewater system. Leaks and breaks in Civil War-era water mains and pipes create ongoing service interruptions and flooding.
Income segregation has produced a disparate tale of two cities—the best of infrastructure and the worst of infrastructure.
The poorer you are, the less educated you are likely to be, and the less educated you are likely to be, the less productive you are likely to be. When human capital in urban areas lies undeveloped and withering, the economic health of the state weakens.
Moreover, as the adage goes, it's about who you know. When people become segregated from one another based on class and income, the rich live in worlds where they may have no clue as to the challenges other people face.
You might not think of sidewalks, roads and sewers as instruments of social justice, but they can be. Citizens Energy has proposed a comprehensive strategy for modernizing the water system and ending sewer overflows. Mayor Ballard continues to recommend expansions of the Rebuild Indy program for urban infrastructure investments.
Income segregation, like racial segregation, will be difficult to eradicate. But with these and other developments in Indianapolis, I am hopeful that government, the private sector and educational leadership will initiate an era of sustainable infrastructure that will lessen the widening gap in the standard of living.•
__________
Westerhaus-Renfrow is a senior lecturer at the Kelley School of Business at IUPUI, president of ChangePro LLC, and a former vice president of diversity and inclusion at the NCAA. Send comments on this column to [email protected].
Please enable JavaScript to view this content.