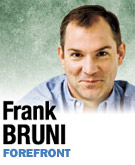 Let Rand Paul have his epic filibuster and Ted Cruz his scowling threats to shut down the government. Let Chris Christie thunder to a second term as the governor of New Jersey, his hubris flowering as his ultimate designs on the White House take shape.
Jeb Bush, lying low in the subtropics of Florida, has something they don't: the unalloyed affection of many of the Republican Party's most influential moneymen, who are hoping that he'll seek the 2016 presidential nomination.
Bush has been a more articulate advocate of a new tone and direction for the party than have Paul, Cruz, Christie or others in the foreground of the race.
He has signaled more willingness for fiscal compromise with Democrats than Paul Ryan and Marco Rubio, for example, have. He has rightly emphasized the importance of social mobility to America's fortunes and has rightly sounded an alarm that such mobility is on the wane.
At 60, he's older than any of the five potential Republican presidential candidates I've already mentioned or than Scott Walker (don't forget him), Bobby Jindal or Rick Santorum. His face is less fresh, thanks largely to a surname shared with the party's last two presidents.
But here's the first great irony: If Republicans care about safeguarding their future, their wisest and best bet may be to reach back into their past. Bush stands out as less strident, more reasonable and more forward-looking than his potential rivals.
Christie is scaring some Republican power brokers, and not solely or even mainly because he's iconoclastic. It's because he's so very loud, so very proud, a ticking time bomb of self-congratulatory bellicosity.
Bush has registered concern with the way the party can come across as "anti-science." He has also referred to it as "the party of no," correctly noting that Republicans right now are defined negatively, by all they're against.
So what is he for? He talks extensively about educational opportunity, grounded in school choice. He has called for a "patriotic energy security strategy" that diminishes our reliance on foreign oil by more thoroughly tapping domestic sources of oil and natural gas.
Bush may lack Christie's verve, but he's shown some of Christie's nerve. Last year he said that both his father and Ronald Reagan would have a difficult time fitting into the intensely partisan Republican Party of today and "an orthodoxy that doesn't allow for disagreement."
"We've lost our way," he said earlier this year.
The party needs to do better with Hispanic voters, and Bush isn't just bilingual but also, in a sense, bicultural, with a Mexican-born wife. The state he governed and still lives in, Florida, has a large Hispanic population.
Swing voters looking for a Republican who supports abortion rights or gay marriage aren't going to find one in him. But then they're not going to find one in Christie or Ryan, either.
I'm told by people in the know that while Bush is definitely mulling a candidacy, there's only a 20 to 30 percent chance that he'll press the button. Many factors play into that decision: his family's privacy; the reality that he and Rubio, his onetime political mentee, can't both run; the nascent political career of his son George P. Bush, who might be better served by a longer Bush lull.
And is a burning desire for the White House really present? The fabled fire in the belly?
Bush has a cooler temperature. But for the party's prospects in 2016 and its image beyond then, that could be good.•
__________
Bruni is a New York Times columnist. Send comments on this column to ibjedit@ibj.com.
Please enable JavaScript to view this content.