Small Indiana-based radio broadcasters are surviving, and in some cases thriving, despite tough times for radio and years of consolidation that put stations in larger cities into hands of national heavyweights.

Advertisers may be fleeing to mobile and other digital advertising channels. And youngsters these days listen to satellite radio or download music from iTunes. But niche formats, supplemental revenue from leasing tower space, and an intensely local focus are keeping many of these operators profitable.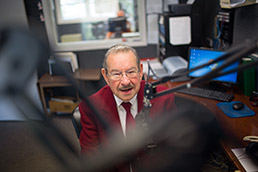 Mid America Radio founder David Keister, at WCBK-FM in Martinsville. A Bloomington station is his newest venture. (IBJ photo/Aaron P. Bernstein)
So if you want to know what's going on in Martinsville, there's the local newspaper—or David Keister's 6,000-watt country crooner, WCBK-FM 102.3.

"If somebody breaks a toenail, I want to have it on the air," said Keister, founder of Mid America Radio Group, which owns and operates eight stations in Indiana, including WHZR-FM 103.7 in Logansport.

Keister rambled into Indiana in the mid-1960s from Michigan, hauling his furniture—and a transmitter—in the back of a cattle truck. He'd eventually own 19 stations in Indiana before selling a bunch in 2009.

Guys like Keister learned that, in small towns, people still want to know who's been arrested, what happened at last night's school board meeting, and who's leading a NASCAR race, said James "Jed" Duvall, a veteran of Indiana radio who worked at stations including WIBC in Indianapolis and now is a radio consultant.

"You have to do the kind of things that the large-market stations won't do anymore," Duvall said. "The focus has to be on a lot of the touchy-feely stuff that involves the people within your town."

Some of Mid America's stations—such as WCBK—are well within the signal umbrella of Indianapolis stations largely owned by national radio chains such as Cumulus and Clear Channel, as well as Indianapolis-based Emmis Communications Corp. The biggest player, Clear Channel, owns 850 radio stations, including WFBQ-FM 94.7. The national operators can hire the top talent, pull bigger audiences, and thus command higher advertising rates.

Yet, said Keister, "we're having our best year ever."

A run for their money

So is Franklin-based Pilgrim Communications, which operates WFDM-FM 95.9 "Freedom 95" in Franklin and WXLW-AM 950 in Indianapolis.



Pilgrim, owned by local resident Randy Hood, is even giving Emmis-owned WIBC-FM 93.1 in Indianapolis a run for its money in the conservative news-talk format.

Freedom 95's weekday lineup is mostly popular syndicated programming, such as shows from Laura Ingraham, Dave Ramsey and Sean Hannity. Yet it still produces local programs during weekends, including one hosted by two hardware store owners.

Last year, Pilgrim dumped the sports-talk format on WXLW and instead used its signal to simulcast WFDM, whose FM signal fades north of downtown Indianapolis.

The station flipped WXLW's Louisville-facing signal pattern back around to the north, aiming it toward Hamilton and Boone counties. There dwells a higher percentage of conservative and higher-income residents who dig the format, and many more potential advertisers.

"A lot of people think of WIBC, with Rush [Limbaugh] as their only format" available locally, said Dan O'Brien, marketing operations manager for Pilgrim.

Bolstering its signal strength to the north wasn't the only change for Pilgrim. It's also looking at sponsoring charitable events in Hamilton County to build affinity with potential advertisers and listeners. And it's joined local chambers of commerce in Hamilton County—the kind of connection-building small-town radio stations have mastered.

"The opportunity for us to grow as a company, as a listening audience, is huge," O'Brien added.

Picking a niche

Meanwhile, Indianapolis-based Artistic Media Partners continues to benefit from a strategy conceived decades ago. Artistic Media is the largest independent, Indiana-based radio holding company in the state. Its 11 stations are in Bloomington, West Lafayette and South Bend.

"We made a decision 25 years ago to concentrate on university markets because they are not as susceptible to the broad swings that you had in the economy. These are pretty good [local] economies," Artistic CEO Arthur Angotti said.

The company also hasn't hesitated to make risky decisions to protect its bottom line. In 2010, it dropped "The Bob & Tom Show," which is syndicated from WFBQ-FM 94.7, in exchange for locally produced programming.

It also stopped broadcasting the University of Notre Dame sports, which some would view as an insane decision. In hindsight, it was an economic win for the station, said Angotti, who only regrets that Notre Dame now has a better football team.

And last year, Artistic launched a division that leases space atop its many towers to various wireless firms and data transmission companies. Calling it "dumb luck," Angotti said Artistic realized its towers in the northern part of the state are just on the east side of Lake Michigan and in the first hop of a microwave link that transmits data between Chicago and New York.

"We've just figured out how to survive in what has been a difficult time for our industry," he said.

Relationships key

Yet what keeps this contingent of Indiana-based operators going is something you can't measure in ratings or a financial report.

"It's in their blood," said Gwen Piening, executive vice president of the Indiana Broadcasters Association, who's visited most every radio station in the state over the years.

Take, for example, Jerry "J" Chapman, a veteran radio personality and former sales executive with Emmis Communications.

After getting the itch to return to small and midsize radio markets, Chapman recently pulled together a group of investors to buy from a Florida company three stations in Muncie and three others in the area, including WHBU-AM 1240 in Anderson.

Newly formed Woof Boom Radio will have a combined reach of 90,000 weekly listeners. Its strategy is to cultivate relationships with advertisers and persuade them it wants to help them succeed. That means doing lots of remote broadcasts from stores. It will help a car dealer celebrate its 30th anniversary. It will spend lots of time sitting down with an advertiser to go over his problems and figure out a way to structure a radio ad campaign he can afford.

Pilgrim's O'Brien will ditto that. He noted that his company has to be flexible at times on ad rates, such as for an HVAC contractor that's had a bad season. "At the end of the day, we're a small business just like them."

Said Chapman: "The people that are operating in those smaller markets—the business is very different because we have a direct connection with our customers … It's the way radio really used to be 25 or 30 years ago."

Walking on eggshells

While all this might sound comfortably quaint, operating in small-town markets is no cake walk, Duvall said. Operators have to be sensitive to perceptions in the community that a station is favoring one group or one advertiser over another.

For example, mom-and-pop shops operating on the town square don't take a fancy to Walmart or those other big-box competitors that have popped up on the edges of towns, said Duvall, who learned a few lessons in politics and diplomacy several years ago at a radio station in Greencastle.

"It took me 2-1/2 to three years to have any credibility, to be effective," he said. "It's a very difficult balancing act."

These radio operators also have to be visible out on the street—at local beauty pageants, sporting events and the like. While a station might not be competing with another radio station boasting a similar music format, it will have to square off with the local newspaper, Duvall said. That means it has to offer listeners news from the school board meeting the night before and about the local sports teams.

"The people who do it best are still surviving. The ones who veered away from that aren't doing so well," he added.

Guys like Keister, who's to receive a lifetime achievement award next month from the Indiana Broadcasters Association, aren't merely surviving.

Keister has put up a tower in Bloomington and plans to broadcast on 101.1 FM within the next year.

He's mum as to the format and the call letters for the upcoming station.

"You can bemoan and give up and say, 'I'm going to let the guys with the big money take over,'" Keister said.

But he's one local radio guy who's not giving up.•