Tesla car owners are a rare breed in the Indianapolis area—so rare that only about a dozen exist, according to the Indiana Bureau of Motor Vehicles.

But more of the luxury electric vehicles could be hitting Hoosier highways if the Palo Alto, Calif.-based company is successful in launching its first store in the city.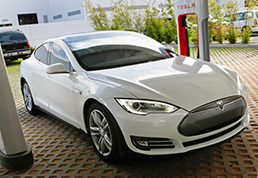 Tesla's Model S could be available in Indianapolis if the company gets a variance to sell cars at the Fashion Mall. (Bloomberg photo)
Tesla Motors Inc. is eyeing space in the Fashion Mall at Keystone and is seeking a zoning variance to sell cars there and to install charging stations within the parking garage. A city zoning board is expected to hear the request Sept. 10.

Rival automakers such as General Motors Corp. and Nissan Motor Co. are stocking local dealerships with electric models, too. But a Tesla shop in Indianapolis would take the local electric vehicle market to another level.

Motor Trend named the Tesla Model S its 2013 Car of the Year, the first time in the 64-year history of the award that a winner was not powered by an internal combustion engine.

The honor could help the Indianapolis store sell more cars at a time automakers are recording impressive sales numbers. Ford Motor Co., GM and Chrysler Group all posted double-digit sales gains in August and their best numbers in seven years.

"We think the Indianapolis market is good for us," Tesla spokeswoman Shanna Hendriks said. "We've seen enough interest from Indianapolis consumers to warrant bringing a store there."

Tesla's pricey Model S sedan, the only model in production now, starts at roughly $70,000 without factoring in a $7,500 federal tax credit. That's about twice the tab for a Chevy Volt and almost three times the price of a Nissan Leaf.

Marty Murphy, president of the Automobile Dealers Association of Indiana, is skeptical Tesla can make much of a push in Indianapolis. Convincing enough Hoosiers to fork over that much cash for an electric car, in which much of the technology is still in its infancy, could be difficult, he said.

Tesla sells its cars from company-owned stores in malls instead of franchised dealerships and has 29 locations throughout the United States, with Chicago the closest to Indianapolis.

"At that price tag, they're not going to sell many," Murphy predicted. "It's not going to be the wave of electric cars we think is coming in the future; it's a high-end car."

Since its founding in 2003, Tesla has made the most strides in its home state. A recent report from the California New Car Dealers Association found that in June the Model S outsold several well-established brands in the state, including Porsche, Buick, Lincoln and Cadillac.

And through the first six months, Tesla's 4,714 registrations in California gave it a 0.6-percent market share in the state. Meanwhile, the company in May paid off a $451.8 million loan to the U.S. government nine years early, surprising investors.

The publicly traded Tesla is best known for its Model S sedan. It also sold 2,500 of its Roadster model, now out of production, and a Model X crossover is expected in 2014.

Tesla earned $15 million in the first quarter of this year, its first profitable quarter, but only by selling zero-emission-vehicle credits to other automakers in California, which generated $68 million in revenue.

The profit surprised Wall Street, helping to send the shares to $170.62 as of Sept. 4.

Neighborhood opposition

The automaker's strategy of locating stores in malls enables it to introduce Tesla to shoppers who might not yet be in the market for a new car, Hendriks said. The company's demographic: folks interested in a performance car that sports both green and high-tech features, she said.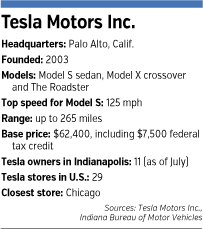 Tesla typically occupies about 2,000 square feet and hopes to be in Indianapolis by the end of the year, pending approval of the variance to allow car sales in the Fashion Mall.

Tesla's request isn't setting any precedent for the northeast-side shopping center. Fiat received a temporary variance from the city and occupied space in the mall, to the chagrin of the Nora-Northside Community Council, before closing earlier this year.

The neighborhood group opposed Fiat's presence and likely will not support Tesla's bid. The council was set to vote on the issue Sept. 5, and a representative of Tesla was slated to attend the meeting.

"I'm a little concerned about the whole idea of cars being sold in malls," said George Haerle, who leads the group's land use committee. "Of course, Tesla is a completely new concept, but we've had some experience with [Fiat] and it didn't work very well."

Haerle said council members repeatedly called the city's Department of Code Enforcement to report what they considered zoning violations related to signage placement in the mall. They also don't like cars parked in the mall's corridors.

Tesla also is seeking a variance for the installation of one to three charging stations in the Fashion Mall parking garage to allow for test drives. The Model S gets about 265 miles per charge.

Tesla would pay for the installation of the stations because they are made to fit only the Model S.

Indianapolis-based Simon Property Group Inc., the world's largest mall operator and owner of the Fashion Mall, began installing separate electric vehicle charging stations at its malls in 2011.

Simon so far has installed charging stations at 46 properties and is targeting 43 other locations, company spokesman Les Morris said. Morris declined to discuss Tesla's plans at the Fashion Mall, citing company policy to comment on tenants only after a lease has been signed.

Embracing electric

Indianapolis, traditionally a haven for gas-guzzling SUVs, has been making strides to embrace electric-vehicle usage.

Indianapolis Power & Light Co. earlier this year installed 26 stations at 1200 Madison Ave., the City-County Building and the Julia Carson Center as part of Mayor Greg Ballard's goal of converting the city's 3,100-vehicle fleet to gas alternatives by 2025.

In June, city officials announced that a French company plans to bring its car-sharing business to Indianapolis by establishing a fleet of 500 electric cars. The addition of Bolloré Group's $35 million system would give Indianapolis more charging stations than any other city in the nation, city officials said.

Still, any local progress made toward electric vehicles looks to be a long slog.

A January report from researchers at Indiana University and the University of Texas said plug-in vehicles have even less appeal in central Indiana than they do in most areas of the country.

The city tied for second-to-last place with San Antonio, Texas, and landed just above the Dallas-Fort Worth metro area in a scoring system ranking drivers' interest in buying the vehicles.

Sales figures at Tom Wood Nissan might offer some hope for electric-car supporters. The dealership sold 21 Leafs through September, more than double the amount it sold last year during the same period, General Manager Dennis Pennington said.

"If you're not doing the long commute, and you're set up with the charging station, it makes a lot of sense," Pennington said.•