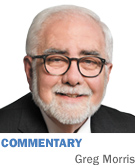 Do you ever think you could do a better job at something than the person currently in charge is doing? What about running the company where you work? If you were put in charge, everything would be so much better, right?
What if you were in charge of the Indianapolis Department of Public Safety? I got the wonderful opportunity recently to be the department's director for a day. The director-for-a-day program is the brainchild of the real director, Troy Riggs, and is supported by the command staff of the department's various divisions. The monthly program is designed to help the participant understand the needs and demands placed on agencies of the department.
I can't begin to capture the totality of my experience in this limited space, but I'll give a recap of my amazing day. It started with a meeting with Riggs and Deputy Director Val Washington. They're both impressive people. I got an overview of their implementation of efficiency-team recommendations, as well as of their goals for each division under their jurisdiction.
Those divisions are the Indianapolis Metropolitan Police Department, the Indianapolis Fire Department, Division of Homeland Security, Indianapolis EMS, Division of Public Safety Communications, and the Animal Care & Control Division. The department works closely with the Citizens Police Complaint Office and the Mayor's Office of Re-Entry.
After that introductory discussion, Fraternal Order of Police President Bill Owensby and Indianapolis Professional Firefighters President Mike Reeves joined us for a conversation about issues from their perspective. Both men are long-tenured and knowledgeable professionals.
Next, I met with Fire Chief Brian Sanford and headed to the firefighters' museum and Survive Alive! Village. The Survive Alive! program educates 8,000 children a year about fire and life safety. I also was able to inspect the fire department's headquarters, in Station 7 on Massachusetts Avenue, and the equipment housed there.
Then I was off to an emergency medical services demonstration by IEMS Chief Dr. Charles Miramonti and his team. With the help of a laptop-controlled simulation using a lifelike dummy that transmits vital signs, blinks and can talk, the team raced to stabilize the patient.
One of the highlights of the day was my visit with Police Chief Rick Hite and our visit to the IMPD Police Academy. Hite is a Gary native and served 32 years in the Baltimore Police Department before coming to IMPD. We had an open and honest talk on the ride to the academy about the daily challenges the department faces. The challenges are many, but so are the positive outcomes being produced by dedicated individuals serving under his command.
At the police academy, I experienced the police-driving simulator and the firearms-training simulator. The shoot, don't shoot simulation was unforgettable. Encountering the unexpected and making a split-second no-win decision is something police officers face every day.
While at the police academy, I met with Chief Tim Baughman of the Division of Public Safety Communications. DPSC supports the radio system, the computer-aided dispatch system, the 911 phone system, police and fire records, and a safety data network. A tech geek like me could appreciate the amazing technology at Baughman's fingertips, including the communications command center RV, which can be used by all public safety divisions.
I also met with Chief Gary Coons of Homeland Security. He has a monumental job. He's responsible for overall safety and security of the city of Indianapolis for any natural or human-made threats or incidents. Coons is also a member of the FBI Joint Terrorism Task Force's executive board.
I saw a demonstration by a K9 officer, and bomb-squad leaders showed me their tools of the trade, including an incredible bomb robot. A tactical van also was on display.
And finally, a topic close to my heart: I met with Indianapolis Animal Care and Control chief Dan Shackle and learned about that vital operation. IACC is the largest shelter in the state; it takes in 16,000 animals a year. Its stories are heartwarming and heartbreaking at the same time.
We depend on these dedicated public safety professionals for our safety day in and day out. They're well-trained and highly committed to protecting Indianapolis residents. They deserve our unwavering appreciation and support.•
__________
Morris is publisher of IBJ. His column appears every other week. To comment on this column, send email to gmorris@ibj.com.
 
Please enable JavaScript to view this content.