Indianapolis officials hope to include plans for a new downtown luxury hotel in their bid for the 2018 Super Bowl, but they're not sure all the pieces for a deal—potentially on Pan Am Plaza—can be put together before a bid presentation for 32 NFL owners in May.
While the city has enough hotel rooms to meet Super Bowl bid specifications, local bid committee officials acknowledge another four- or five-star hotel would greatly enhance the bid. City officials are working behind the scenes to get it done.
Following the Aug. 30 announcement at Lucas Oil Stadium that Indianapolis was officially throwing its hat in the ring, Super Bowl bid committee CEO Allison Melangton said she'd like to include another downtown hotel in the city's presentation, but added, "I'm not sure yet if that's going to be possible."
Other committee members said discussions are ongoing between officials from the Mayor's Office, the city's tourism arm and a potential developer to bring the deal to fruition if Indianapolis makes the short list in October.
While Melangton said she's not overly concerned about the metro area's number of hotels, she acknowledged that the number of downtown hotels could be an issue.
"A city like New Orleans certainly has more downtown hotels than we do," Melangton said.
New Orleans, Tampa and Minneapolis—which has slightly fewer downtown hotel rooms than Indianapolis—are expected to be Indianapolis' primary competition.
The NFL next month will name the 2018 finalists, which are expected to include no more than four cities. Those finalists will make presentations at the annual team owners' meeting next May. The NFL doesn't disclose how many teams initially petition to bid for the Super Bowl, but league sources said up to eight were expected to submit an application for 2018.
While there are a handful of places a downtown hotel could go, the primary focus is on Pan Am Plaza. Not only is it a prime location due to its proximity to the Indiana Convention Center and Lucas Oil Stadium, but the site's owner, Kite Realty Group Trust, has expressed an interest in developing a hotel there—possibly as part of a plan that would include residential and retail.
Developers proposed a 44-story Intercontinental Hotel for that site in 2006, but city officials instead decided to financially support the JW Marriott, which was built southwest of Washington and West streets.
A new downtown hotel is seen by some as the bid-winning linchpin. That could give Kite leverage to seek a favorable financing package from the city. Indianapolis invested $48.5 million in the JW Marriott complex.
Several NFL team owners and major sponsors stoked speculation when they said after the 2012 Super Bowl here that another four- or five-star downtown hotel would enhance Indianapolis as a Super Bowl host.
Indianapolis Colts owner Jim Irsay fanned the flames when he said in his analysis of the 2012 Super Bowl: "The one deficiency to overcome is downtown hotel space … it has improved but still is [a] shortcoming in bid efforts for [a] second opportunity."
Making matters worse, the 278-room University Place Conference Center & Hotel on the IUPUI campus closed in late 2012 and has been converted to student housing. It was the host hotel for the AFC championship team during the 2012 Super Bowl. The Alexander, a 209-room luxury hotel opened downtown in early 2013, negated part of that loss.
The 2012 Super Bowl and surrounding festivities produced a direct economic impact of $176 million, according to a Rockport Analytics study commissioned by the Indianapolis Super Bowl Host Committee. So the Super Bowl is no small consideration, and a hotel operator already seriously considering such an investment could be eager to cash in on America's biggest sporting event.
"That income would represent a nice bonus for the developer and operator," said Tim Worthington, a hotel industry veteran who now operates Platinum Hotel Solutions, a local consulting firm.
Two-minute drill
For a hotel to be operational by early 2018, developers said, construction would have to start by mid- to late 2015.
"They wouldn't have a ton of time," Worthington said. "It would take two years to build. And it would take some time, maybe a year, to design and jump through all the other hoops necessary."
Deron Kintner, Indianapolis deputy mayor for economic development, acknowledged city officials have talked to Kite principals about their plans for the site, which is less than a block from the Indiana Convention Center, but said financing and construction time lines have not been discussed.
"For the city to get involved with a hotel or any project, someone would have to … prove they need our help and that the project is transformational or catalytic," Kintner said. "We'd look at things like jobs created, taxes generated and overall economic impact."
Kite, which bought the site in 2008, is considering a variety of development possibilities—including residential, retail, a hotel and office space, said company spokesman Adam Basch. Size and scope have not been determined.
"When the market dictates, we'll move," he said. "We obviously think it's a good location for a hotel."
The Pan Am development would likely include a 350- to 600-room full-service hotel with catering, meeting space and other amenities, tourism industry sources said. If it reached 600 rooms, the hotel would be the third-largest in the city behind the JW and the 622-room Indianapolis Marriott Downtown.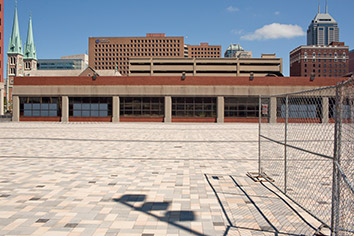 Visit Indy CEO Leonard Hoops says market analysis should determine the size of any hotel built on the site of Pan Am Plaza. (IBJ file photo)
Potential hang-up
But there's a potential hang-up. Officials for the company that owns the parking garage beneath Pan Am Plaza, New York-based Dali Associates LP, must approve development plans.
In late 2011, Kite and Dali held talks that resulted in a deal that allowed Pan Am Plaza to be repaired so it could be the site of ESPN's television and radio sets and other activities during the 2012 Super Bowl. Since then, Kite has further improved the site.
Recently, though, tourism sources said the relationship has soured, and that the underground garage owners could hold up development.
Armand Lasky, principal of New York-based Northeastern Security Development Corp., a partner in Dali, said Dali officials support development on the site.
"In late 2011, we signed an agreement that obligated them to do the work on the plaza and address the leaking in the garage," Lasky said. "They've done that. The plaza is tighter than a drum for the first time since it was built" in the mid-1980s.
"A long-term agreement is in place that would allow them to build any number of things there: a hotel, residential, retail, business offices. We have the right to approve those plans, but we're not going to be unreasonable," Lasky said. "I would love to see a development there. We think that would be good for the city and good for us."
The 20-year agreement that Lasky said his firm has with Kite is transferable if Kite decides to sell the parcel. He added that his firm has no interest in selling the garage and has not been approached by Kite or city officials recently about selling.
"We're long-term players on this thing," he said.
Visit Indy support
Leonard Hoops, CEO of the city's tourism marketing arm, Visit Indy, said it would be a mistake not to put a hotel on the Pan Am site at some point, given its proximity to the Convention Center and Lucas Oil Stadium.
"You're just not going to have very many available parcels like that one come along very often, and it could do a lot to strengthen the overall hospitality industry here. The key question is going to be, what's the right size for that hotel? That's going to require more analysis."
Kintner agreed, but added, "We'd talk to a lot of existing hotel operators to make sure the timing is right before we got involved."
The idea is already meeting serious resistance from local hotel officials, who fear a new property will make it harder to fill their own beds.
Hoops said he supports the project because it makes sense for the city's long-term development plans. But he cautioned against rushing it just to land a Super Bowl.
"You don't build a church for Easter Sunday," he said.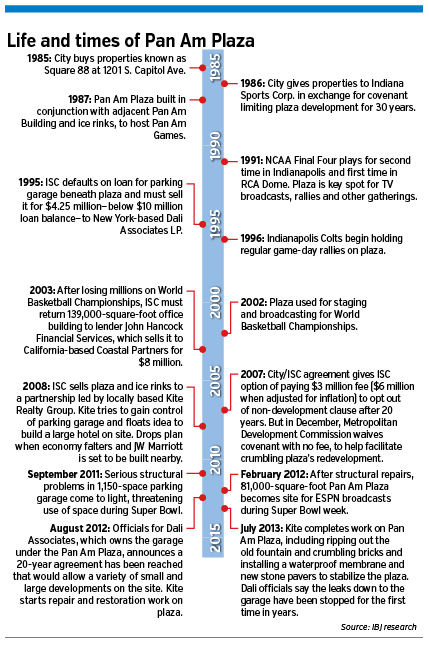 Hoops, who came to Visit Indy from San Francisco in 2011, is more cautious than his predecessor, Don Welsh.
In 2010, with the JW still under construction, Welsh began lobbying for an additional 1,000-room downtown hotel. Rival operators fretted such a project would spawn a glut of rooms, in part because, beyond the 2012 Super Bowl, no unusually large events had committed to Indianapolis.
"When Don Welsh said that out loud—that he wanted another 1,000-room hotel on top of the JW—a lot of people thought he was crazy," Worthington said. "A lot of hotel operators were really mad about that."
Welsh departed for Chicago in 2011 without achieving that goal. But now, with Indianapolis bidding for the 2018 Super Bowl and the city's hotel market continuing to gain strength, hoteliers' opposition has softened.
Worthington said the way the market absorbed the JW Marriott, Indianapolis' largest hotel, is making some think maybe Welsh wasn't crazy after all.
City-wide hotel occupancy rates for Indianapolis in 2010, the year before the JW Marriott opened, were 53.8 percent, according to San Francisco-based PKF Hospitality Research LLC. In 2011, city-wide occupancy was 56.9 percent. Revenue per available room, an important measure of a hotel market's overall financial health, increased 9.3 percent from 2010 to 2011, to $47.82.
Downtown hotel occupancy increased from 65.3 percent in 2010 to 66.4 percent in 2011. With the help of the Super Bowl, downtown hotel occupancy was near 70 percent in 2012. City-wide occupancy in 2012 was up again, to 59.4 percent, and revenue per available room increased another 13.9 percent, to $54.48.
"You could argue that some hotels in the suburbs have taken a hit, but by and large, this market absorbed those [JW] rooms and held its own," Worthington said.
Great growth
Two important things happened during 2011 and 2012 that gave the local hotel market a massive boost, even as the economy continued to wobble.
In early 2011, the Indiana Convention Center cut the ribbon on a $275 million expansion. Visit Indy and city officials aggressively marketed the new space and were even willing to cut meeting and convention planners favorable deals to get them to sample the expanded convention center.
That momentum culminated with the 2012 Super Bowl, said Mark Eble, who heads PKF's Midwest office.
"That filled a lot of hotel rooms in this city for almost a solid week," Eble said. "Many of those rooms were sold at a healthy price."
Local hoteliers are pleased with what they've seen, but said 2013 numbers will be a significant market indicator now that the market has settled after recent changes.
Hoops insisted momentum is still building in the city's tourism and convention initiatives. That, he added, is good news for downtown and suburban hoteliers.
"We have a state-of-the-art airport, a dynamic downtown with more connected hotels than any city in the country, and a flexible convention center and Lucas Oil Stadium that can accommodate a wide variety of meetings and conventions," Hoops said.
Visit Indy has booked 785,000 hotel room nights that will be used this year, he said. That's far above the 445,590 booked a decade ago. And it's just short of the 819,000 hotel room nights used last year. Those numbers don't include rooms that hotels sold themselves.
"In 2012, 109,000 of the hotel room nights were due to the Super Bowl," Hoops said. "If you take those out of the equation, we're way ahead of last year."
Expansion opposition

Hoops
Local hoteliers said an additional downtown hotel in the next couple of years would create a serious drag on the market.
"Another big hotel in this market right now would make it very challenging to maintain our occupancy levels," said Jim Dora Jr., CEO of General Hotels Corp., which operates 11 hotels in Indianapolis, including downtown and at the airport.
Dora thinks annual city-wide occupancy needs to be in the 65-percent range before another hotel is built. Brian Comes, general manager for the Hyatt Regency downtown, said occupancy needs to be in the low-70-percent range.
"Downtown might actually be able to absorb the hit to some degree," Worthington said. "Where a bigger impact could be felt is the suburbs. The suburban hotels rely on a lot of overflow from downtown, especially during big events."
Hoops understands the opposition.
"We need to build more consistent corporate demand to warrant another hotel," he said.
Dora thinks some area hoteliers would take a strong stand against any government subsidy now for a new hotel.
"You're talking about using tax dollars, many generated by existing hotels, to fund a competitor," Dora said. "If the addition benefits the market, that's understandable, but I don't think the market is strong enough to add another city-funded competitor."•
Please enable JavaScript to view this content.