When an outstanding exhibition temporarily parks in a local museum, that's cause for excitement.

However, when a permanent exhibition gets an outstanding upgrade—when the improvements will be around not just for months but perhaps for a generation—that's cause for celebration.

And so allow me to celebrate here the transformation of Playscape, the corner of the Children's Museum of Indianapolis dedicated to the 5-and-under set.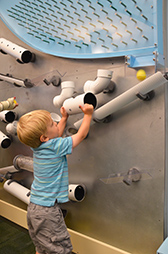 At the newly upgraded and expanded Playscape at the Children's Museum,the under-5 set creates, interacts and explores in a screen-free environment. (Photos courtesy of the Children's Museum)
To be fair, Playscape was a great place to begin with. My kids spent their early years in the previous iteration, which always proved a welcoming place for curious kids and their patient parents. The new version, though, which officially opened Aug. 31, is of an entirely different order, mercifully free of high-tech and with a clear focus on the way kids play and learn.

As their kids toddle off to the various zones, adult Playscape vets are likely to note the expansion (to nearly 8,500 square feet), the ditching of the drop ceiling (taking the height up to 35 feet), and the addition of windows (the earlier version had none). Now set on the southeast corner of the building, Playscape embraces the outside world rather than hides from it. And while the airy feel certainly puts a greater burden on the rarely acknowledged (but terrific) Children's Museum janitorial staff, the space certainly feels cleaner and more welcoming.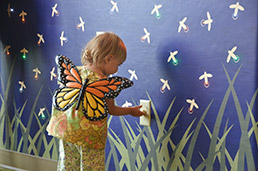 What will your kids and grandkids run toward? There's the expected climbing area—a netting-enclosed series of lily pads leading up to a pair of boats near the ceiling. The expected downhill water table includes plenty of boats, cups and more (with waterproof vests available, of course). And the expected sandbox is sizable, only now including cool turntables for creating sand designs—which I witnessed children using intuitively without parental guidance.

Areas devoted to art and music are well-stocked with hands-on items. You would expect the music zone to be a headache inducer, but kudos to whomever did the instrument selection and designed the acoustics. Even with an untrained band of kids banging, the space never felt cacophonous. Frankly, I've heard a lot worse at legit music festivals.

A new area houses a mechanical Rube Goldberg-esque Reaction Contraption that, unlike the one that used to be in the ScienceWorks area, is interactive. Near it sits the fun Whirly Twirly Tower—think of those grab-the-money chambers only with ribbons and scarves swirling around instead of cash. Air blowers also power the imagination in the Babyscape area, where the littlest of littles collect leaves, insert them into a tube, push a button, and send them flying.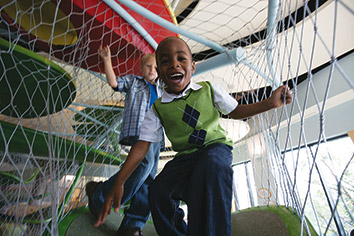 Kids may not notice or appreciate that the changing table is now along a wall of the exhibition, making it possible for parents of multiple kids to watch one while diapering another. And you no longer have to venture out to the hall to take a child to the restroom. You can enter right from Playscape—which also includes comfortable nursing rooms.

Best of all: Throughout the new Playscape, you won't find toy tie-ins, licensed characters, gift-shop come-ons or video screens. You will find kids having a blast—so much so that there are now timed entrance tickets, a la Disney World's Fastpass system. My advice: If you are taking your own kids and aren't part of a field trip, avoid 9:30 a.m. to noon on school days.



Speaking of kids, my eldest daughter is getting married in November, which means that objectivity was certainly a challenge when I attended Beef & Boards' "Father of the Bride" (through Sept. 29).

Putting aside my personal connection to the material as best I can (and admitting to some tears), I must say that while the sweet moments play well, the overall impact of each of the two film versions is largely lost on stage.

No fault of the able cast. Rather, blame the decision to half-heartedly force-feed a 1950s piece into the present day. Reducing a show that calls for 16 actors plus extras into an eight-player, under-populated production also proves penny-wise and pound foolish. Trying to fit this nostalgic piece into contemporary times is a strain that rivals that of father-of-the bride George Banks trying to squeeze into his old tuxedo.•

__________

This column appears weekly. Send information on upcoming arts and entertainment events to lharry@ibj.com.