With resources available that can make Equity theater companies salivate, the volunteer-acted Booth Tarkington Civic Theatre sometimes can be its own worst enemy.
Sure, there are times all the elements come together beautifully—as anyone who saw Civic's "The Drowsy Chaperone" or "Ragtime" can attest. Those productions not only offered sets, costumes and tech credits on par with the best in central Indiana regional theaters, but also effectively provided a slap in the face to anyone calling its unpaid actors "non-professional."
 
In Civic's hands, Stephen Schwartz's popular musical includes Fosse-esque dance numbers, above, and suburban spoofing, below. (Photos/Zach Rosing)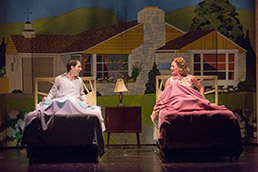 On the other hand, there are Civic productions where the technical elements and the quality of the pit orchestra raise expectations that its onstage populace can't match.
Case in point: "Pippin" (running through Sept. 21).
For those who haven't seen any of the literally thousands of regional and high school productions—or the Ben Vereen original or current Broadway revival—of this Stephen Schwartz musical, here are the basics: Prince Pippin believes he's destined for an extraordinary life and his unsatisfying search for purpose leads him to try war, sex, politics, rural life, and more. Steering him toward temptations is a tribe of theatrical types spearheaded by the Leading Player, by turns seductive and menacing. In case you are a first-timer, I won't tell you what happens.
Yet in spite of flying harnesses, flash pots, and a "disappearance box," this "Pippin" is woefully short on the magic promised in the opening number (which is delayed by an unnecessary and confusing silent prologue). Blame goes, in part, to dance numbers that were designed as showstoppers but here wear out their welcome long before they are through. Competence is no replacement for dazzle.
Nobody should expect Broadway-level talent, of course. But more than expert footwork, "Pippin" requires a unified vision and extraordinary balance. Its title character is about as petulant and needy as you'll find on a musical theater stage. Yet we have to identify with his quest even as we know it's unreachable.
Here, we have a Pippin who looks more like a young Stephen Colbert than what we've grown used to with the show—not a bad thing if you still root for him to find happiness. But there's an authenticity missing both in his Pippin and in the suburban (rather than rural) conceptualization of his would-be life partner.
Civic's production does have bright spots. The choral music, particularly in "Morning Glow" at the end of the first act, is strong. It's got a fun 3D effect added, briefly, to the surefire sing-along number. And the incorporation of a new, Schwartz-sanctioned ending moment works beautifully. But when the best performance comes from an actor playing a disembodied head, clearly there are issues.
Ballet benefit—with updated mission—continues to shine
Except for "The Nutcracker"—or when Dance Kaleidoscope or Gregory Hancock Dance Theatre revives one of its earlier works—there are few opportunities for central Indiana residents to see the same dance piece more than once.
So when the Stuttgart Ballet's Alicia Amatriain and Jason Reilly performed Itzik Galili's caustically brilliant "Mono Lisa" back at the first Indianapolis City Ballet benefit in 2009, I thought I was having a once-in-a-lifetime experience.
Yet there it was again, as the centerpiece in the second act of yet another can-you-top-this
ICB Evening with the Stars benefit Sept. 7. And the same duo was back to perform it.
It remained stunning, despite the introduction by George de la Peña, who did it a disservice by focusing attention on Amatriain's extensions rather than letting the piece impact as a whole. His commentary throughout the evening offered little insight, often working against the pieces rather than enhancing them.
To be fair, it would be tough to enhance this level of excellence. If picking a highlight, I could just as easily point to Melissa Hamilton's and Eric Underwood's "Lieder," Yuan Yuan Tan's and Damian Smith's "Distant Cries" or Andrij Cybyk's extremely silly "Two Boys in a Fight"—in which Cybyk played both of the bundled-up boys—as I could to "Mono Lisa."
One thing this ICB benefit didn't offer this time around was talk of forming a resident world-class ballet corps here in Indy. Instead, Chairman Robert Hesse's welcome pointed toward bringing international companies, rather than just their stars, to town.
A different—but certainly more attainable—goal. Bring 'em on.•
—Lou Harry
__________
This column appears weekly. Send information on upcoming arts and entertainment events to lharry@ibj.com.
Please enable JavaScript to view this content.