For years, Anthem Blue Cross and Blue Shield has been synonymous with maximum choice of doctors and hospitals.

But not any more–at least not for those buying coverage through the Obamacare exchange.

When the exchange starts next month, most of Indianapolis' major hospitals and physician practices will not be available through Anthem's exchange plan, but instead will be working with a health plan run by Indianapolis-based MDwise Inc.

MacBeth
Anthem's new "narrow network" strategy is designed to direct more patients to hospitals in exchange for lower payments. But many doctors and hospitals said no to Anthem's skimpier payment plan.

Anthem has struck agreements with Community Health Network to serve patients in Indianapolis, Anderson and Kokomo who choose its plan in the Obamacare exchange. In the counties around Indianapolis, Anthem also has contracted with hospitals in Danville, Franklin, Greenfield, Lebanon, New Castle and Noblesville.

But the state's three largest hospital systems—Indiana University Health, St. Vincent Health and Franciscan St. Francis Health—have opted to work with MDwise.

Wishard Health Services, the county-owned hospital in Indianapolis, is only in the MDwise network right now.

Insurers build networks of doctors and hospitals in order to lock in discounts off the health care providers' retail prices. Anthem, by far the largest health insurer in Indiana, negotiates the largest discounts with providers.

MDwise, co-owned by IU Health and Wishard, already handles Medicaid benefits, on contract with the state government, for about 300,000 Hoosiers.

MDwise is expanding into the Obamacare exchanges because it expects many of its Medicaid customers to switch back and forth between the two programs, and it wants to allow them to keep the same health insurer and the same doctors and hospitals.

The Obamacare exchanges also will provide tax credits to low- and moderate-income Hoosiers to help them buy insurance, which should help boost the number of paying customers for hospitals serving low-income patients.

"I'm very excited. I think it's a great new business opportunity for us," said MDwise President Charlotte MacBeth. She predicted the company would add 30,000 to 100,000 exchange plan members.

Anthem expects to attract more than 150,000 customers to its exchange health plan next year.

MacBeth declined to divulge the reimbursement rates MDwise offered to pay to health care providers, other than to say the rates were a "multiple of Medicare" rates. Privately, some Indianapolis health care providers said MDwise offered roughly 30 percent more than Medicare, which they viewed as fairly attractive.

"Some providers had it in their mind that they would get commercial rates," MacBeth said. "It's somewhere between Medicare and commercial."

Anthem took the same approach, but its offer was received less favorably by many health care providers. Anthem executives said a year ago they wanted at least a 10-percent reduction from what Anthem had been paying doctors and hospitals in its other commercial health plans.

When Anthem filed its exchange health plan with the Indiana Department of Insurance, it assumed its pricing would be 9 percent lower than it had been for individual insurance plans in 2012.

Even with that discount, Anthem's rates may have still been higher than MDwise's for some hospitals and doctors. But privately, some providers were concerned that saying yes to Anthem's lower rates on its exchange plan might cost them the next time they negotiated a contract for Anthem's other health plans.

Anthem spokesman Tony Felts declined to offer details on the insurer's contracting with providers.

"The exchange network is in development; additional providers are joining," he said in an email. "In the end, we will offer a network that enables our customers to have convenient access, choice and affordability."

Local hospital executives say MDwise's ability to land St. Vincent and Franciscan is surprising.

Franciscan's Indianapolis hospitals had been part of the Anthem provider network for Medicaid patients, not the MDwise network. But MacBeth said Franciscan switched its Indianapolis hospitals over because the rest of its hospitals throughout the state were already part of the MDwise network.

St. Vincent's direction on the exchange plans is uncertain. A year ago, the Catholic hospital system signed an agreement to jointly negotiate insurance contracts with Community Health and the suburban hospitals around Indianapolis.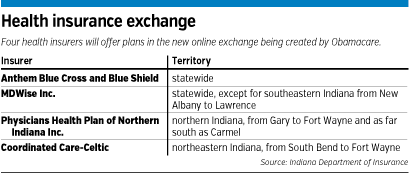 But just a few months later, Community Health struck its own agreement with Anthem for the exchange plan. Community CEO Bryan Mills said he always intended St. Vincent and the suburban hospitals to join that agreement, but St. Vincent has so far declined.

St. Vincent spokesman Johnny Smith would not say that St. Vincent has told Anthem no. And privately, St. Vincent officials say they're still debating internally whether to join the Anthem exchange plan.

That leaves Anthem with a much thinner offering of doctors and hospitals than it has offered to employers and individuals before. Community has the second-largest market share in the Indianapolis area, with hospitals on the north, northeast and south sides of Indianapolis, as well as physician offices around the city. Community also operates hospitals in Anderson and Kokomo

Combined with the suburban hospitals in Hendricks, Boone, Hamilton, Hancock and Johnson counties, those hospitals could serve patients throughout the Indianapolis area.

Community also has signed a joint-operating agreement with Wishard, which has a downtown hospital and clinics throughout the county. Wishard officials said they are looking to join other networks for exchange plans. Anthem offers the only other exchange health plan for Marion County residents.

Anthem executives think they will have enough providers because patients will accept fewer choices to get affordable prices.

"Our experience and research reveals that consumers would be willing to trade unlimited access to providers, by way of a narrow network, in return for a lower premium," Felts said in an email.

Health insurance broker Tony Nefouse thinks Anthem's plan will work.

"I think it'll be price driven," Nefouse said of consumers' attraction to health plans offered in the exchanges, which are expected to attract nearly 700,000 Hoosiers by 2017.

Nefouse dismissed concerns about the fact Anthem's plan will not offer access to all hospitals and doctors, noting that many exchange customers will have been uninsured before.

"They're going to have access to health care whereas in the past they didn't," he said.•