Joel Trusty's promising invention and new company, Revive Electronics, started with a real sob story.

After his wife, Theresa, accidently soaked, soaped and spun her cell phone in the washing machine 18 months ago, she turned on her own water works.

"I told her I would buy her a new phone and all I heard was boo-hoo-hoo," said Trusty, principal of local manufacturer Trusty-Cook Inc. "What she really wanted was all the data, the contact information, photos and video she had on her phone."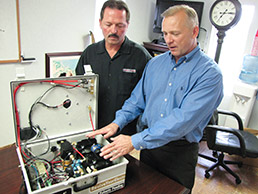 Joel Trusty, left, and Reuben Zielinski explain how their invention dries out the interior of cell phones and other electronic devices and brings them back to life. They hope to be in mass production later this year. (IBJ Photo/Anthony Schoettle)
Trusty isn't one to give up on a problem. The 51-year-old grew up watching his dad do things others said was impossible. Jon C. Trusty Sr. built Trusty-Cook by using urethane, a thick, plastic-like material, to make dead-blow hammers that were later sold under the Matco Tools and Snap-On Tools brands.

Trusty wasn't about to let a little moisture in his wife's phone cause him to throw in the towel. In fact, he now believes his efforts have resulted in a company that could eventually generate $500 million annually.

Trusty realized that any drying method couldn't run too hot, since the electronic components break down at 150 degrees Fahrenheit.

Then Trusty recalled that moisture can't survive in a vacuum.

Trusty realized if he could remove all the atmospheric pressure from a chamber, he could turn liquid—even liquid inside a cell phone—into a gas at a much lower temperature than otherwise possible. And that gas would seep through the cracks and crevices of a phone's plastic case.

At the Trusty-Cook plant near Fort Benjamin Harrison, Trusty placed the phone in a large vacuum chamber used to remove gasses from polyurethane. He tried several methods. "I really didn't know what I was doing," Trusty said with a broad smile.

Alas, after one of his trials, presto, Theresa's phone came on. And that's not all. The data, photos and videos were perfectly intact.

Trusty had done so much trial and error, he wasn't sure what he had done right.

"I needed someone who understood the science behind it, someone who could help me replicate what I did," Trusty said.

He almost immediately thought of his quirky neighbor, Reuben Zielinski.

Zielinski, 52, holds a bachelor's degree in electrical engineering and an MBA from Rochester Institute of Technology, and a master's degree in mechanical engineering from Rensselaer Polytechnic Institute. He spent 13 years inventing things for IBM and another 16 years making gadgets and gizmos for life sciences firms. But that's not what Trusty remembered most from their first encounter a few years earlier.

"I walked into a room in his basement—I thought I was walking into a bathroom—and he cornered me and started grilling me," Trusty said. "He said, what did you see? What did you see?! I told him I didn't see anything—at least not anything I could make sense of."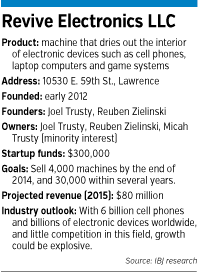 The room is where Zielinski kept many of his inventions.

In the years since, Trusty came to appreciate Zielinski's creative thinking and inventing skills. The two are equally energetic and animated—especially when talking about overcoming challenges with inventions.

"Joel recognized I can reduce an idea to a practice," Zielinski said.

The duo tinkered until they came up with a device about the size of a 1970s video cassette recorder. More importantly, Zielinski pinpointed the 16-step sequenced process Trusty had stumbled upon.

Trusty and Zielinski convened at Trusty-Cook on a Sunday to test what they had put together. The duo remembers the date like it was yesterday: Dec. 4, 2011.

Before coming to the manufacturing plant tucked along 59th Street, they stopped by Walmart to buy a thumb drive and a camera. They also brought along an old Blackberry, a calculator and an iPod from home. They submerged each device in water for a few minutes, then through the 16-step process.

"Each device was restored," Trusty said.

Going commercial

Days after her old phone was restored, Theresa Trusty made a trip to the cell phone store to have the data from her restored phone transferred to the new phone she bought while the old phone was dead.

She was astonished when the store clerk said he sees 20 to 25 phones that don't work every day because they've been soaked. The clerk commented, almost offhand, that people would pay a lot of money to use a machine that could revive a wet phone.

"We started thinking maybe we had something," Zielinski said.

Trusty's wife didn't need convincing. She pushed the duo to take their idea commercial. Others, too—family and friends whose electronics they revived—raved about their invention.

Rodney Samodral, a friend of Trusty's, had a phone his wife "unceremoniously dropped in the toilet."

"It was deader than a doornail," said Samodral, who works in information technology. "We put it in a box of rice, replaced the battery and got nothing."

One time through Trusty and Zielinski's unnamed invention and Samodral's phone worked.

"It didn't dawn on me how valuable this device was until I started thinking about all that data on my wife's cell phone," Samodral said.

When Trusty asked Samodral and his wife how much they'd pay to have their dead phone revived, they said without hesitation, $100.

"We started talking about the potential of this, and then we slowed ourselves down, and said 'let's get grounded,'" Zielinski said.

Patent pending

Not long after that, the duo called Dan Boots, who leads the intellectual property and technology practice group at law firm Bingham Greenebaum Doll.

Boots has seen a lot of inventions in his career, and said this one has more commercial potential than most. Trusty and Zielinski now have a number of patents pending in 35 countries.

"With the onslaught of digital devices as part of everyday life, this is a ubiquitous problem that will need addressing," Boots said. "It's a nearly fail-safe way to resurrect electronics. We think it's quite innovative."

Cell phone industry experts estimate 60,000 cell phones in the U.S. are ruined by water each day.

"No one chased this problem before because electrical engineers for years have said cell phones and other electronic devices were fried when they got wet," Zielinski said. "They're not fried. We've proved that."

The co-founders formed Revive Electronics with the idea of having a kind of workshop where people would drop off or mail their electronic devices, but then they realized that wouldn't work.

Micah Trusty
"In today's age, especially with cell phones, that would take too long," Trusty said. "We decided we needed to take this to the people."

Size matters

The duo decided they needed to make their machine smaller—small enough to fit on a desk or a retail counter—and faster so customers could wait while their devices were restored.

Trusty brought in his cousin, Micah Trusty, to help streamline the product. Micah in 2000 founded Outbound Technologies Indiana, an industrial automation engineering company. The 38-year-old, who holds a degree in electrical engineering from Rose Hulman Institute of Technology, had just sold OTI when his cousin approached him about becoming a partner in his new company.

Micah had just the skill set the elder Trusty and Zielinski were looking for. He installed automated electronic processes in the machine to make it smaller and faster—much faster. Instead of taking 60 minutes to dry a device, the invention now takes 25 minutes. The current model is 22 inches long, 16 inches wide and 14 inches tall. Along the way, a function was installed in the machine so it can monitor the exact level of moisture in any electronic device.

Micah also developed a control panel that makes operating the device as easy as a microwave oven. The wireless device can also now be monitored remotely, meaning Revive Electronics can easily know how many devices have been dried using each machine—which will be key data for an eventual payment plan for the company's customers.

This is no small gamble for Trusty and Zielinski. They've already invested $300,000 and the three have put close to 3,000 hours into development. But they have little fear they'll recoup their investment.

"Selling these is going to be like shooting fish in a barrel," Trusty said.

Some companies that make money selling cell phones might hesitate to restore old phones, Trusty said, "but there are lots of others that would be happy to take $75 or $100 to make a quick fix with our machine. Besides, it gets people in the door of their store."

The co-founders are considering a contract where Revive Electronics would get an up-front payment plus a fee for each device dried and restored.

The invention not only works on larger electronic devices such as tablets and laptop computers, but Trusty said it also can restore devices soaked in other liquids such as soda pop.

In many cases, Trusty said, a device can simply be soaked in water until much of the other stuff—such as soft drink syrup—inside is washed out. And then it can be put through the drying machine and restored.

The machine is equipped with an ultra violet germicidal light that kills microbes and bacteria.

Only one thing can render an electronic device un-revivable, Trusty said: Plugging it into a wall outlet or other power source before it's dried.

Capital campaign

Trusty and Zielinski said they're already in late-stage talks with a couple of big retail companies that are interested in using their device. By the first quarter of next year they anticipate placing 50 machines and by the end of the year, 4,000. Trusty thinks each machine will bring in $20,000 annually for Revive Electronics with "a 90-percent gross margin on the service charge."

If the Revive Electronics founders reach their goals, they'll have $80 million in annual revenue by 2015.

When the company matures in four to five years, Trusty and Zielinski project they'll have placed 30,000 machines worldwide.

Revive Electronics owners are talking to four Indiana shops about manufacturing the device, and are looking for investors to help launch the manufacturing process.•