The nonstop connection to Silicon Valley that Indianapolis techies have long wanted is here, but a leading advocate for the service said it doesn't meet his industry's needs.
"It's not enough to have a nonstop flight," Cha Cha Search Inc. CEO Scott Jones said. "There has to be convenient transportation options. This does not satisfy that."
Beginning in January, United Airlines will fly every day from Indianapolis to San Francisco International Airport. The new service came to fruition after the Indiana Economic Development Corp. took the lead on negotiations and guaranteed the airline $1.5 million in revenue.

Jones
Jones worries the new route will fail because the flight schedule means venture capitalists and others from Silicon Valley who want to visit Indiana companies will have to spend two nights here.
The flight will depart San Francisco at 1:35 p.m. and arrive here at 8:51 p.m. That gives business travelers plenty of time to attend a meeting the following day, but they would have to spend one more night to catch the nonstop flight out of Indy, which departs at 8 a.m.
Jones said that setup isn't any better than connecting in Chicago or another hub, which is already enough to keep the two California-based venture capitalists who sit on his board from visiting more than once or twice a year.
Potential new investors also cite the inconvenience of flying to Indianapolis, Jones said.
"I've got to respond to them and say, 'You could work on your laptop [during the flight], and you could make it in and out in a day.' That's what I need to be able to say to take that off the table as a reason not to invest."
Indianapolis Airport Authority President Mike Wells acknowledged that the new service favors Indianapolis-based travelers, but he thinks they will make it successful enough for United to eventually add a second flight.
"I understand what Scott's saying because I find that in my own business. I like to be able to have a good way in and a good way out," said Wells, president of the real estate firm REI Investments. "It's baby steps."
United is starting out on an understandably conservative course, said airline stock analyst Bob McAdoo of Imperial Capital in Los Angeles. While it might be ideal to offer an afternoon or evening departure from each city, that's impossible to accomplish with just one plane on the route, he said.
Airlines are "finally making a little money, and they're just trying to be careful," he said.
Jones started a drumbeat about flight connections to technology havens after he returned to Indiana from Boston two decades ago. He served on a task force that worked closely with airport officials on luring the flights, but he said he wasn't involved in the more recent negotiations, which were led by ExactTarget co-founder and CEO Scott Dorsey and Commerce Secretary Victor Smith.
ExactTarget was recently acquired by Salesforce.com, based in San Francisco.
"In our view, a morning departure with an evening return represents the ideal flight schedule for this route," IEDC spokeswoman Katelyn Hancock said.
Wells said the schedule will be a good fit for several types of travelers, including those headed to Asia for companies like Roche and Eli Lilly and Co., those connecting to other major West Coast destinations like Seattle, and leisure travelers.
"We need every one of these little segments to all fly this nonstop to make it successful," Wells said.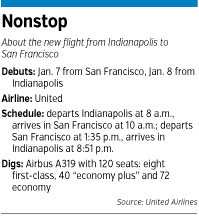 For those who need a one-day turnaround, Wells said, there are still plenty of evening flights out of Indianapolis with connections in hub cities.
"It's not the best, but it's doable," he said.
United spokesman Luke Punzenberger said the schedule was designed to capture the largest number of travelers possible, and the airline thinks it will be attractive in Indianapolis and San Francisco.
"The fact that we're using a mainline aircraft speaks to the importance on both sides," Punzenberger said.
Chicago-based United will deploy an Airbus A319, configured with 120 seats. Eight of those will be first class, and 40 will be "economy-plus."
In the past, airlines have offered to fly regional jets to San Francisco, to which Jones replied, "Don't bother. VCs and important executives from Silicon Valley are not going to get on that plane if there's not at least business-class seating."
This is the first time the IEDC has guaranteed airline revenue. If United does draw on it, the money will come out of IEDC's promotions fund, Hancock said.
McAdoo thinks the new service has a good shot at standing on its own, and United might never tap the $1.5 million.
Many small cities subsidize flights to entice airlines to offer a route, but tapping the subsidy isn't always needed, McAdoo said. Columbia, Mo., a college town between St. Louis and Kansas City, recently persuaded American Airlines to provide nonstop service to Chicago by providing a revenue guarantee. According to local media accounts, American has yet to tap the fund.
Indianapolis averaged 175 passengers a day headed to San Francisco through various connections in the last calendar year. If most of those travelers opt for the nonstop route, United should have no trouble filling a 120-seat plane.
Wells hopes the first year will be enough for the new route to prove itself.
"It only makes sense to jump-start a destination if you believe the destination will ultimately grow to be successful," he said.
Jones said he's concerned not just because the new flight fails to meet his specifications.
"The stakes are really high. If we screw this up, it will be a decade before we can try again," he said. "We want nonstop flights other places, too. Everybody's going to look at this as the example."•
Please enable JavaScript to view this content.