There won't be any telltale stroller tracks along the dirt roads of Prairietown on the evening of Sept. 20. No juice boxes littering its porches or toddlers pulling too aggressively on the wool still being worn by live sheep.
That's because, for a night, if you aren't of legal drinking age, you'll be persona non grata at Conner Prairie, an attraction usually overrun with the smaller set.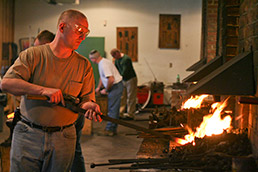 Luring adults to locations designed for children is a national trend at a time when not-for-profits are looking for new sources of revenue and larger audiences. (Photo courtesy Conner Prairie)
"We heard it again and again," said President and CEO Ellen Rosenthal. "'You have Hearthside Suppers. You have Follow the North Star. But what else are you doing? We come with our children and grandchildren but what about other options for us?'"
Thus, the inaugural Prairie Plates event. More than just a one-off, it represents a big step in the Hamilton County living history museum's increasing effort to target grown-ups—a trend happening around the country as once-staid institutions look to expand audiences and increase revenue.
"The first audience segment we want to focus on is, of course, families with children," added Rosenthal. "Then come school children on field trips. Adults are third place. But the overall mission of Conner Prairie is to inspire learning about Indiana through individualized experience and, like the others, in order to really engage adults, we have to make the experiences exciting for them and that starts with understanding what they prefer to do."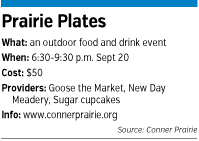 Rosenthal and her team believe that primarily means eating and drinking—taking advantage of Conner Prairie's unique atmosphere as well as its own heritage hogs. (If you've bought prosciutto or capicolla from Goose the Market, you've sampled them.)
Catering to adults isn't a new idea. Conner Prairie used to be home to Persimmons Restaurant, and it has long been available for group meetings, senior trips and more. What's new is the more assertive push into that market and a staff empowered to look for and implement new ideas that still fit, at least loosely, within the museum's mission.
"The adult audience is interested in learning experiences, social experiences, and a combo of the two," said Chris Petrelli, who joined Conner Prairie in 2011 as its director of programs, education and evaluation. "We're trying to craft a portfolio that covers both of those."
One anchor on that menu, he hopes, will be Prairie Plates, a $50-a-head event where food artisans from around the state offer workshops, discussion and, of course, tasting. Goose the Market will be serving up the meats and cheese, New Day Meadery offering hand-crafted meads and ciders, and Sugar crafting the desserts.
It's not Conner Prairie's first alcohol-fueled event. Its 2012 History on Tap beer-tasting event attracted 335 patrons. The second, held in May, upped the capacity, expanded the drink offerings, and sold out at 700.
Alcohol is served at some of Conner Prairie's adult-oriented events. (Photo courtesy Conner Prairie)
"With History on Tap, we didn't want to fall into the mold of 'just another beer festival,'" said Petrelli. "We wanted to take the concept and give it a unique spin, adding our own flair. In addition to introducing a fleet of craft brewers, that meant evening tours of Prairietown, complete with historical brew recipes, and demonstrations. Including molasses beer sold at Prairietown's Golden Eagle Tavern."
The drink, said Petrelli, isn't something you'd want to chug at a football game.
Conner Prairie isn't alone in seeing value in the adult market. Luring grown-ups to locations seen as primarily kid haunts has become a trend—and perhaps a new norm—across the country.
Even the Children's Museum of Indianapolis went child-free for a night in February 2013, attracting more than 2,000 attendees to the Adult Swim evening it co-produced. Another is scheduled for February 22.
Where is the line between expanding the market and going against a museum's mission?
"I'm not sure there is a line," said Lawrence Yerdon, president and CEO of Strawbery Banke living history museum in New Hampshire, which has been hosting wine and beer events for years. "Museums are evolving and changing dramatically. We have an important responsibility to be educators and to preserve our past—you have to always keep that in mind. But there are quite a few things you can do within that."
For him, that means adding an ice rink (including historically inaccurate hockey).

Rosenthal
For Conner Prairie, that means butchering and sausage-making workshops for DIY foodies. It means more frequent Conner Prairie at Dawn early hours with outreach to painting clubs, photography clubs, and others who want a low-key, kid-minimized visit. It means ghost walks scarier than the kid-friendly Conner Scary Halloween program.
And it means workshops, including one for iPhone photography tentatively planned for October. Plans for the future include science cafes and more theatrical offerings.
"I think there are a lot of avenues that we could go down," said Petrelli. "The one thing we are trying hard to do is make sure the programming we choose is appropriate to Conner Prairie—that people feel as though that should be done there. We're different from a parks and rec department. We're not going to be doing a volleyball game … but we could do an archery class or shooting class."
And, chances are, there will be food involved.
"When we did our strategic plan in 2006, we market tested an idea to focus more on local foods," recalled Rosenthal. "The idea totally bombed with focus groups. Maybe it was just ahead of its time."
For a place that's usually, deliberately, behind the time, that's remarkable.•
Please enable JavaScript to view this content.