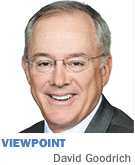 Indianapolis has largely reinvented itself over the last four decades. Most of our modern skyline—the major office towers and hotels that define downtown—came about in the last 20 years. The IUPUI campus took shape in the early 1970s and has continued to grow. The sports venues that helped put us on the map, the vast convention center, our impressive new airport terminal—all built within a generation.
But other parts of our city have remained unchanged for a century or more—and not just historic buildings or protected landmarks. Unfortunately, much of the infrastructure we depend on for drinking water and clean waterways is a relic of a bygone era.
Central Indianapolis is served by an antiquated combined sewer system, pipes that carry both sewage and storm water. Built in the late 1800s, the system is easily overwhelmed by the demands of the modern population. Even a light rain of a quarter inch can cause raw sewage to overflow, polluting White River, Fall Creek and other streams. It's a health hazard, an ugly blight on our quality of life.
The rest of our water system has eroded over time, as well; many of our water mains were installed when the Civil War was a recent memory. Each year, Indianapolis experiences hundreds of breaks, wasting millions of gallons of water, closing streets and disrupting service.
We're not alone. Aging water infrastructure is failing across the country, and hundreds of communities are grappling with the issue of combined sewer overflows. The EPA has mandated major upgrades in many cities, including Indianapolis.
The threat of federal sanctions is only one issue. Center Township has experienced a steady flight of people and capital for decades. IBJ reported recently on Indianapolis' struggles to retain its manufacturing base. A reliable water supply and basic standards of sanitation are fundamental to revitalizing our urban neighborhoods and attracting industry.
Fortunately, Citizens Energy (which I served as a director) and the city of Indianapolis do have a straightforward approach in place for addressing these issues. Citizens proposes nearly $4 billion in water and wastewater investments by 2025. The centerpiece of this significant investment is the massive deep-rock tunnel system (now being called Dig Indy), that will virtually eliminate combined sewer overflows, along with the expansion of existing wastewater treatment plants and ongoing upgrades to aging water mains.
Citizens has proposed modest rate increases to help fund these projects. As this plan is reviewed by the Indiana Utility Regulatory Commission, there's been a push for cost-cutting.
Ratepayers should demand operational efficiency. But it should be remembered that Citizens has achieved significant savings through consolidation since its acquisition of the water utility two years ago, and that funds were also withdrawn from that deal to finance the Rebuild Indy infrastructure program.
It's time now to move forward, to avoid further delays or excessive debt financing and stay on track to finally modernize our water and wastewater systems.
We've come so far from "Indy-a-no-place," and I see opportunities to build an even greater city.
But it's difficult to realize a 21st century vision when 19th century infrastructure sends raw sewage flooding into our waterways and down our urban streets. We can't neglect basic necessities like a clean, reliable water supply, and the shared costs of achieving it.•
__________
Goodrich is the former president of Colliers Turley Martin Tucker (Indianapolis ); he was also a co-founder and the first president and CEO of Central Indiana Corporate Partnership, a regional alliance of CEOs and university presidents focused on economic growth, retiring from that organization in 2005. Send comments on this column to ibjedit@ibj.com.
 
Please enable JavaScript to view this content.