Once upon a time, Phil Hockemeyer ran a cookie company.

The Darlington snack company for 30 years peddled sweet treats to large institutional users—think schools, hospitals and nursing homes—across the United States and Canada.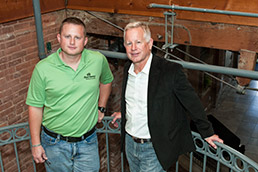 Ryan Hockemeyer, left, has followed his father, Phil, into the family business. (IBJ photo/Eric Learned)
But growing concerns over America's obesity epidemic have the 15-employee Noblesville company hanging its hopes on healthier fare: all-natural, whole-grain-rich snacks that Hockemeyer thinks will appeal to the increasingly health-conscious masses.

These days, Hockemeyer and his employees carefully avoid the word "cookie." Instead, they use nouns like "bar" and "crisp" and "bite."

Developed in response to stricter school-nutrition standards, Darlington's new Appleways and Crave-n-Rave products now are headed for the retail market.

The company introduced Appleways snack bars and Waffle Crisps six months ago at a vending industry trade show; they're available now on Amazon.com. Its Crave-n-Rave Spikerz cracker bites are expected to roll out early next year.

"The response so far has been outstanding," said Hockemeyer, Darlington's owner and president. "We can't make them fast enough."

Cookies are still an important part of the company's lineup, but momentum is building for its healthy snacks. That bodes well for Hockemeyer's goal of getting the new products onto grocery and convenience store shelves.

It's a difficult nut to crack, particularly in an industry dominated by giants like PepsiCo Inc.'s Frito-Lay. But Darlington's existing customer base—and its experience making healthy food kids will eat—could help, said Richard Feinberg, a professor at Purdue University's Center for Consumer Science and Retailing.

"That's a start," he said. "It's not easy to come out with a new product these days. … There's a lot more to it than coming up with a great idea."

Snack makers that overcome the "tough, if not impossible" challenge of snagging shelf space and then manage to attract consumers' attention still have to deliver on taste and price, he said.

Then there are so-called cultural values like the current emphasis on healthy options—a consumer preference that's driving growth in the $34 billion snack industry, according to an August report in Food Technology magazine.

"If it tastes good and is cheaper and healthier than what I eat now, it's got a shot," Feinberg said. "It's the nature of the consumer: Why change from what I'm buying now?"

Wanting a 'wow'

Darlington is up for the challenge, Hockemeyer said, crediting company chef Justin Miller, who used his bakery-science expertise—and an on-site test kitchen—to come up with great-tasting products that also meet school-nutrition requirements.

"We want it to be a 'wow,'" Hockemeyer said, "not like you're eating twigs and seeds."

"If it doesn't taste good, kids are not going to eat it," agreed son Ryan Hockemeyer, the company's vice president of marketing and technology.

The soft oatmeal bars, "sweetened with apples" to lower sugar and fat content, sell for 75 cents to $1 in vending machines, he said. Boxes of 24 are selling for about $14 on Amazon.

Four contract bakeries handle production, adhering to Darlington's specifications.

Appropriately enough, the company's nerve center is in a former flour mill in downtown Noblesville. Hockemeyer moved his team from Indianapolis three years ago in search of a small-town atmosphere where the company could make a difference.

Pit bull of baked goods

The company is staking its future on its ability to avoid the negative connotation that accompanies such unabashedly sweet treats. Ryan Hockemeyer is well aware of the challenge, calling cookies the pit bull of baked goods.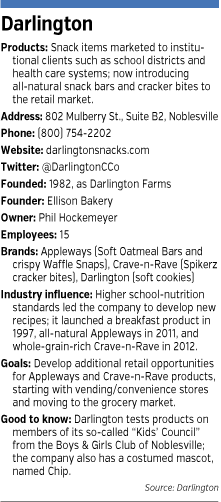 The Appleways products provide healthier ways to satisfy a sweet tooth, he said, and the 100-calorie packs of Spikerz crackers offer savory options with flavors like Fiery Chili Cheese and Heavenly Ranch.

Darlington's effort to use natural ingredients and exceed USDA standards for school nutrition—limiting the percentage of calories from fat, saturated fat and sugar—should resonate with consumers, said Annette Hinton, a chef and registered dietitian who owns a culinary consulting firm in Gainesville, Ga.

Hinton, who has worked with Hockemeyer and Darlington in various capacities over the years, wasn't involved in concocting Appleways and Crave-n-Rave, but she sees their potential.

"People want to be healthy, but nobody's ever going to give up snacking," she said. "This is exactly what the public wants: something they can eat without feeling guilty."

She said the elder Hockemeyer has an uncanny ability to identify a market need and come up with a solution.

"That's his genius," she said.

He's doing something right. Hockemeyer declined to share details of the privately held company's financial results, but he said Darlington's sales increased at least 7 percent every year during the recession—before the company entered the retail market.

The company now works with more than 300 distributors, shipping "millions" of products every week, Hockemeyer said.

Mowing down obstacles

Still, getting the attention of consumers isn't easy without a big commitment to marketing, said Raymond Burke, an Indiana University marketing professor who specializes in shopper behavior.

"It's very easy for a new product to get lost in the clutter," he said, citing research that shows shoppers actually see major "signpost" brands before unfamiliar brands when scanning the shelves.

Indeed, only about 10 percent of new grocery store products succeed, he said, in large part because consumers overlook them.

Hockemeyer intends to mow down that particular obstacle—with a custom-painted vintage school bus. Plans call for gutting the interior and outfitting it with iPad stations where kids can play nutrition-focused games and adults can soak up valuable information, along with samples and coupons.

The rolling advertisement will visit schools during the week and special events on the weekends, he said.

Coupons and sampling are effective—if expensive—ways to get customers' attention, said IU's Burke. Keeping it is just as important.

"You encourage people to try your product and hopefully a sufficient number will buy it again," he said. "It's not enough to make a sale. You have to create a loyal customer."

Hockemeyer couldn't agree more. A part owner since Fort Wayne's Ellison Bakery sold Darlington in 1995, Hockemeyer bought out his partner in 1999. His son joined the company in 2000.

Despite their high hopes for growth tied to the new products, the Hockemeyers have no desire to sell Darlington.

"You tend to lose your roots as a company grows," said Ryan Hockemeyer, 31. "This isn't about making a buck."

"We're a motor scooter among semis, but we're doing quite well," his father said.•