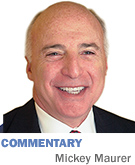 I make my own breakfast. At mid-day, lunch is usually fresh fish simply grilled. Janie sets the dinner plans, and I go where I'm told. Now I'm writing a restaurant review?
Last month Joyce Rogers, former president and CEO of Indiana Black Expo and current vice president of development at Ivy Tech, invited me to lunch at Courses in the old Stouffer's Hotel at 2820 N. Meridian St. Courses is a student-operated restaurant of which too few in central Indiana are aware. That is too bad.
Courses combines superior cuisine with a learning environment for the hospitality programs at Ivy Tech Community College. I had truite amandine, a/k/a rainbow trout. Every summer I fish in Alaska and am required to release those tasty fish—lunch was sweet revenge. In addition to trout, the menu boasted salmon and tuna as well as steak, chicken, sandwiches and a variety of appetizers and salads. The check was embarrassingly reasonable.
I was not surprised to learn from Joyce that Ivy Tech alumni are flourishing as personal chefs and in fine restaurants not only in Indiana but throughout the country, including the haute cuisine capital of North America, New York City. The gourmet classes are also popular with foodies—folks who just want to improve their skills at home. We are not just training busboys here.
Under the guidance of Jeffrey Bricker, an alum of the program, more than 1,000 currently enrolled students will earn certificates and degrees in various hospitality specialty areas. Among them: culinary arts, baking and pastry arts, restaurant management, hotel management, event management, beverage management and culinology—a unique combination of food service and culinary arts, offered in partnership with Purdue University, that provides research for influential industry players, including Pillsbury Co.
Bricker, a former catering company owner, presides over Ivy Tech's sparkling clean facility, which boasts two advanced culinary labs with high-end cooking suites equipped for remote teaching, sous vide stations, a chocolate room, advanced bakery lab and garde manger, including a humidity-controlled walk-in for drying meats. Bricker was recently inducted into the American Academy of Chefs, a national honor society of the American Culinary Federation.
A Lilly Endowment grant enabled Ivy Tech to acquire and renovate the Stouffer's property in 2010. The Culinary Center opened two years later. Lilly Endowment often rescues neighborhoods. This time it was in its own backyard.
It is a nostalgic pleasure to see the corner of 28th and Meridian reemerge as a choice for a tasty meal. Stouffer's Hotel, built in 1965, was a prominent location for weddings, proms and other celebratory events in the city. Elvis reportedly stayed on the 11th floor of the hotel in 1977 (until he left the building) when he was performing in Indianapolis—a performance that would be his last.
The hotel closing in the late 1980s sounded the death knell for the corner, which once also boasted Sam's Subway, one of the most popular restaurants in the city. The Subway was the finest delicatessen on Indy's north side. It was established in 1928 by the legendary Sam Hochman, who was nationally famous for leading treks from Indianapolis to Philadelphia and Chicago with Bernarr Macfadden, often credited with starting the culture of health and fitness in the United States. The Subway was then operated by Sam's sons, Harry and Saul, and grandson Steve until it closed in the 1980s.
Hospitality is just part of the general offerings of Ivy Tech, which claims Indiana's fastest-growing enrollment with nearly 200,000 students and more than 125 programs on 32 campuses. Anyone with a high school degree or a GED may apply. This valuable asset recently celebrated its 50th anniversary serving up not only delicious meals, but also delectable opportunities for Hoosier education.
Reservations at Courses are available Monday-Thursday for lunch and Wednesday and Thursday for dinner and can be secured at opentable.com/courses-restaurant.•
__________
Maurer is a shareholder in IBJ Corp., which owns Indianapolis Business Journal.  His column appears every other week. To comment on this column, send e-mail to mmaurer@ibj.com.
Please enable JavaScript to view this content.