Two northeast-side office buildings that fell into foreclosure four years ago while owned by a prominent local developer are close to attracting a buyer.
Woodfield Crossing II and Woodfield Crossing III were part of the portfolio of Premier Properties USA Inc., whose holdings also included Metropolis mall in Plainfield and a prime parcel near the Fashion Mall at Keystone Crossing where the Ironworks project now is under development.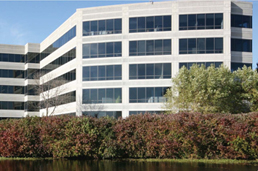 Brokers expect the Woodfield buildings to fetch at least $20 million. (Image courtesy Cassidy Turley)
Founded by Christopher P. White, Premier filed bankruptcy in 2008. Under a receivership, local brokerage NAI Meridian is listing the two Woodfield properties and set a deadline of Sept. 30 for best and final offers, according to brokers familiar with the process. Jeff Harris, president of NAI Meridian, declined to comment.
NAI Meridian initially received about a dozen bids and whittled the number down to about five serious inquiries, brokers familiar with the process said.
The brokers said the two Class A buildings total 348,000 square feet and should fetch at least $60 a square foot, which works out to more than $20 million. Occupancy is just 35 percent. But the dismal rate could present an opportunity to attract tenants needing large blocks of space, said Dan Richardson, a senior vice president for investment services at the CBRE brokerage.
"I'm confident that [NAI Meridian is] getting strong interest in them," he said. "The reason that they are is that the Keystone market has come back dramatically since the first quarter of 2011, with the exception of those properties."
The Keystone submarket's occupancy rate since had risen from 75 percent to 85 percent as of the second quarter of this year, CBRE statistics show.
Rent for the larger, five-story Woodfield Crossing III is $19.50 per square foot, while rent for the smaller, four-story Woodfield Crossing II is $18.50 per square foot, according to a Cassidy Turley marketing brochure. Cassidy Turley is the court-appointed receiver for the properties.
Space available in Woodfield Crossing III is as large as 27,000 square feet on a single floor, the brochure says. But by relocating a couple of tenants, more than 130,000 square feet of contiguous space could become available on floors one through five in the east wing of the building.
Amenities of Woodfield Crossing III include an on-site conference facility and fitness center with showers and lockers on a campus setting.
Premier Properties bought the Woodfield buildings from Duke Realty Corp. in 2007. Wes Podell, who was with Duke back then but now is vice president of leasing and development at PK Partners, said PK explored buying the buildings but did not make the final cut.
"I think Woodfield is an interesting buy because of the strength of the Keystone submarket and opportunity to accommodate large users," Podell said in an email. "The question is whether or not you can buy it, invest a significant chunk of capital to fix it up and lease it, and be all in at a basis that makes sense."
After Premier ran into financial trouble, the mezzanine lender for the Woodfield properties, Arbor Commercial Mortgage, foreclosed in an attempt to recoup its investment. But Arbor concluded the buildings weren't worth enough to repay both the first-mortgage holder and its own position, so it relinquished control.
Premier's White had envisioned encompassing the Woodfield buildings into his audacious Venu mixed-use development, which never got off the ground. The property that was to be the centerpiece of that $750 million project, at the southwest corner of Keystone Avenue and East 86th Street, now is owned by Wisconson developer Hendricks Commercial Properties. Its $30 million Ironworks project will consist of 30,000 square feet of restaurants and retail on the first floor and 90 high-end apartments on the upper three floors.
Ruth's Chris Steakhouse will move from its north-side location near Keystone Avenue and East 96th Street to Ironworks and occupy 16,500 square feet.
Hendricks put the property that housed a vacant strip center under contract in 2012 after Premier defaulted on a loan.
Please enable JavaScript to view this content.