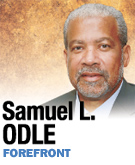 Indiana and Indianapolis have much to be proud of. The state is in a relatively good financial position, to the point of rebated taxes.
Indianapolis has financial challenges, but nothing that cannot be overcome by good ol' bipartisan political work. I am optimistic Mayor Ballard and council President Maggie Lewis will lead us through the issues.
And we are recognized as a place to host national and international events—no small feat.
What concerns me is where the state is potentially headed in terms of population growth and management. Population growth is flat, and while the metro areas are booming, the rural areas are starting to suffer. We are experiencing what has happened to much of the U.S. already, where we depart from rural and become more metro-based.
Indianapolis' population growth over the last 10 years is largely due to our rural population moving to the larger cities, with Indianapolis being the main beneficiary. The long-term prognosis from the Indiana University Public Policy Institute is that our rural areas will be depleted of workers by 2040 and primarily be populated by older residents past their productive years.
Our future success, even as Indianapolis, depends on others—rural Indiana towns and the people who make up those communities.
We often hear about the brain drain in Indianapolis and Indiana, and the truth is that we do educate far more college students than our job market can absorb. So, yes, young people are leaving rural areas for jobs in the larger cities and when they can't find a job and the lifestyle they desire, they leave the state.
This is all occurring while we are trying to increase the number of Hoosiers who attain post-high-school education.
Unless we ensure that our job market expands at a much greater pace, we will be educating Hoosiers for quick export and potentially see Indiana's real population decline.
The decline will also be the citizens we have invested in educating. It's the people without education who remain and require even further support from those committed to staying and growing Indiana.
So how do we as a city get Indiana really growing and prospering again? The government and business community need to drop the one-sided commitment to fiscal conservatism and develop a plan that swings for the fences.
First, we need an immigration strategy that invites new citizens to populate our dying rural communities. These communities are ideal for new United States citizens. They can help rebirth our rural communities the same way immigrants settled in the 1800s.
This growing rural population is the linchpin of our future agricultural dominance. It will also diversify our work force to provide future workers as retirees and baby boomers age out of the work force.
Second, we must develop a bold plan to take advantage of rising global wages and provide incentives for companies to bring jobs back to the U.S. Our technical training schools can partner with these companies to make certain they have the abundant work force they require to remain competitive.
And third, we need to build on our energy and life sciences foundation to support existing companies with everything they need to grow here, and not be lured away.
Immigration is not a problem, but rather a hidden opportunity Indiana should seize to help enable growth for a brighter future. We must preserve some of what we've been while planning accordingly for the change that is inevitable.•
__________
Odle is the former chief operating officer of Indiana University Health and CEO of Methodist and University hospitals. Send comments to ibjedit@ibj.com.
Please enable JavaScript to view this content.