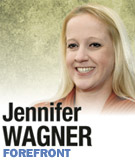 I spent a large chunk of the last eight years as the spokeswoman for the Indiana Democratic Party.
It was the best of times (big wins in 2006, 2008 and 2012), it was the worst of times (it sure would be nice to forget about 2010 and some stinging losses at the local level).
I'm proud to be an Indiana Democrat, and I have high hopes for the future of the party. But I'm also a realist. Republicans hold the Governor's Office, supermajorities in the Indiana House and Senate, and seven of our nine congressional seats.
It was a great moment on election night last year when I got to watch Joe Donnelly, a candidate I first met when I started working for the party in 2005, win his U.S. Senate race.
Anyone who's ever met him knows that "just Joe" isn't some political act he puts on for the cameras. He's genuine, down-to-earth and honest, and I'm glad he's at the helm of the party as it moves forward.
We couldn't ask for a better standard-bearer for our brand.
But I'll be honest: We've got a little work in the branding department.
Political parties serve three main purposes: recruiting candidates, providing resources to campaigns, and communicating a message.
That last item involves keeping the other side in check. It's the part of politics voters say they hate, but when it's done right, it's persuasive at the polls.
Ideally, you balance that partisan push for accountability with a positive agenda conveyed by candidates and elected officials.
Indiana Democrats have fought tough fights for working Hoosiers at the Statehouse, and we've promoted policies that would provide opportunity for our middle class. But we've lost ground in a number of areas.
We let Republicans steal the issue of education from us. (Full disclosure: I help Indiana Democrats for Education Reform with their messaging.)
After all, it was former Gov. Frank O'Bannon who pushed to create accountability standards for our public schools to give parents a more transparent look inside the classroom.
And it was former Mayor Bart Peterson who became a national education superstar for establishing locally sponsored charter schools in Indianapolis.
When Republicans talk about fiscal conservatism and economic development, I think of former Gov. Evan Bayh, who went eight years without raising taxes, created more than 350,000 jobs, and implemented one of the largest tax cuts in Indiana history while maintaining a huge budget surplus.
The good news for Indiana Democrats: We can get back to those days when voters equated the party with strong leadership and big ideas.
The bad news: It isn't going to happen overnight.
Donnelly's guidance and continued common sense approach in Washington get us off on the right foot, but at the end of the day, we have to have more elected officials to burnish the brand.
Next year, I believe, Indiana House Democrats can pick up half a dozen seats, which will require Republicans in that chamber to play nicely or risk losing a quorum to do business.
In 2015, we have to focus our efforts on municipal races in the metropolitan areas that have become the new base of the party.
And in 2016, we have to field strong candidates for U.S. Senate and governor who can help those running down the ticket.
More than anything, we have to figure out what we stand for, not just what we're against. It's a challenge I willingly accept and look forward to overcoming.•
__________
Wagner is a lifelong Indianapolis resident and founding principal of Mass Ave Public Relations, a local public relations and publicity firm. Send comments on this column to ibjedit@ibj.com.
Please enable JavaScript to view this content.