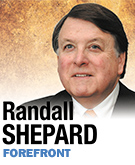 Our public dialogue about competing with other states often focuses on development tools, tax policy, infrastructure and the like. These are surely some of the hard-edge elements of any sensible approach to building Indiana's economic future.
We also rightly focus on "educating tomorrow's work force," and Gov. Mike Pence has renewed our appreciation of the fact that educating must feature education ranging from manufacturing and design skills in high schools and community colleges, to classic liberal arts, to advanced scientific experiences in research universities.
We do rather well in providing secondary and post-secondary education for both our residents and for students from elsewhere, but our retention of this talent isn't what it needs to be.
Just how do we make ourselves better at retaining and attracting the most creative young people? The University of Evansville's Institute for Global Enterprise recently afforded some valuable insight into how we should think about the task.
The university brought to Evansville and to Indianapolis professor John Kao, formerly of Harvard Business School, who now advises businesses and institutions on innovation, organizational transformation and emerging technologies.
Speaking about the most innovative of the millennial generation, Kao made a counterintuitive point.
"We tend to think that young people look for a job and move to the place where the job is," he said. "But young and creative people in this generation decide what cities seem like the best places to live, then move there and hunt for a job."
Many young innovators, of course, identify places like Seattle, Boston and New York, but this sort of place-selection regularly focuses on choices other than these big magnets.
We do, indeed, enjoy some success inside the region in attracting people looking for an interesting place to live (a fact recently made plain to me when my niece, who grew up in Chicago and is finishing Northwestern University, announced she might move to Indianapolis, both because she sees Indy as interesting and because she's attracted by our magnificent concentration of first-rate museums).
As for homegrown talent, for several decades, Indiana's young people have tended toward migrating to our urban/suburban areas. They move to the city.
To attract and hold such talent, we must build and burnish Indiana cities as interesting and healthy places to live. Seen in this vein, Mayor Greg Ballard's plans for "complete streets" and alternative sports facilities (over which he has taken so much grief) seem like sensible strategies designed to make Indianapolis even more attractive to young innovators.
Likewise, Mayor Jim Brainard's energetic redesign of downtown Carmel is plainly an effort to create an urban environment that great young talent might call home.
The whole state, including our rural areas, has an interest in the success of such strategies, and our financial arrangements should reward them rather than make them more difficult.
An analysis by Ball State University and the Indiana Fiscal Policy Institute has revealed that residents of Indiana's urban counties pay much more in state taxes than their communities receive. Vanderburgh, Marion, Hamilton and Bartholomew counties send $500-$1,200 a head more to the state treasury than the state spends in their communities. Residents in Jackson, Marshall and Blackford are net recipients of benefits on the same order.
All of Indiana should be at work creating and attracting young and innovative people to help build a stronger economic future. We should do our best to be candid with one another about just how this can happen.•
__________
Shepard, Indiana chief justice from 1987 to 2012, is executive in residence at Indiana University's Public Policy Institute, a research arm within IU's School of Public and Environmental Affairs. Send comments on this column to ibjedit@ibj.com.
 
Please enable JavaScript to view this content.