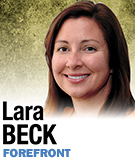 My son started kindergarten in August.
Within a few days, it became apparent that his kindergarten experience is significantly different from that of his parents. Homework every night. Reading that must be logged and initialed. High expectations for reading, math, technology and the arts.
It's a lot for these little people to digest, even for those who have had the benefit of pre-kindergarten programs. Just imagine then, how children who have not had access to early childhood education fare when they walk into their first day of kindergarten.
Indiana is one of 10 states that provide zero funding for public pre-kindergarten programs. Despite repeated attempts by candidates and elected officials to move the needle, we continue to lag.
In our refusal to act, we are failing our youngest citizens and future work force.
The statistics paint a bleak picture. Twenty-eight Hoosier teenagers get pregnant every day, equivalent to one classroom. Ten of them are under age 18. Sixty percent of teenagers who become mothers before age 18 are high school dropouts. Their children are likely to be dropouts themselves, have more health problems, be incarcerated at some time during adolescence, give birth as a teenager, and be unemployed as a young adult.
As detailed by The Status of Girls in Indiana 2013, 23 percent of Hoosier children live below the poverty level. On average, Indiana's girls performed 39 points lower than Hoosier boys on the math section of the SAT. Hoosier girls were at least 11 percent less likely to meet college benchmark scores for math and science on the ACT than their male counterparts.
I'm not suggesting early childhood education is a panacea to Indiana's problems. But it's a start.
Research shows that high-quality, state-run pre-kindergarten programs for 3- and 4-year-olds help narrow the achievement gaps for low-income children while boosting achievement for all students. Long-term studies have found that children who participated in high-quality pre-kindergarten programs had higher educational attainment, were more likely to be employed as adults, had lower rates of criminal activity, and were less likely to rely on public assistance.
Studies also show that pre-kindergarten returns $13 in public benefits for every $1 invested. After 25 years, return on investment would exceed program cost by $31 billion.
I was more than heartened to learn that Democrat City-County Council President Maggie Lewis and Republican businessman Al Hubbard have joined forces in creating The Lewis Hubbard Group to study educational issues in our community, which includes how we address inadequate access to early childhood education for students who face economic challenges.
Their members represent a cross-section of voices, and have a unique platform to not just identify the problems, but also move tangible solutions forward. I firmly believe that Lewis, who is a strong leader, will bring a reasonable and thoughtful approach to this process. I'm looking forward to their work.
Over at the Statehouse, Senate Minority Leader Tim Lanane already has laid out an aggressive plan to increase early childhood education options for Hoosier children. The proposed legislation would allow local school corporations to develop their own early childhood education programs with the Indiana Department of Education. It would lower the mandatory school age to 5 and allow schools to create partnerships with early childhood education providers.
I'm hopeful we can make significant progress so access to high-quality, public, early-childhood education becomes a reality for our youngest citizens. We can't afford to wait any longer.•
__________
Beck served on the staffs of former Mayor Bart Peterson and former first lady Maggie Kernan. A resident of Irvington, Beck owns the strategic communications firm Beck Communications. Send comments on this column to ibjedit@ibj.com.
Please enable JavaScript to view this content.