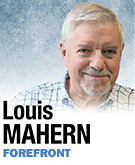 Weather permitting, I walk our Irish setter, Finn McCool, nearly every day in Garfield Park. The 126-acre park on the near-south side has been a Mahern recreation site for over 100 years, after my great-grandfather moved his family to the area of Raymond and Shelby streets.
There are several historical reminders in the park, not the least of which is the 30-foot monument to the 1,616 Confederate prisoners who died at Camp Morton. While the monument reads of the prisoners "buried here," they are actually buried at Crown Hill Cemetery.
They were initially buried at Green Lawn Cemetery near Oliver and Kentucky avenues. Then, beginning in 1928, as Green Lawn became more desirable as an industrial site, the prisoners were reinterred at Crown Hill and the 30-foot monument was moved to Garfield Park.
However, the bronze plaque affixed to the monument explaining that move was pried off in the last year and undoubtedly sold for scrap. Viewers today would not be blamed for thinking the prisoners were buried in Garfield Park.
During World War I, 387 Marion County residents lost their lives. Their sacrifice was honored at the 1921 dedication of the Grove of Remembrance in the northwest corner of the park with a bronze plaque affixed to a substantial boulder.
The plaque undoubtedly memorialized the event and the site. However, we don't know for sure, since someone pried off the plaque and no doubt sold it for scrap.
When I contacted the Parks Department to inquire about the inscriptions on the two stolen plaques, I was informed the Parks Department had no idea when the plaques went missing or what their inscriptions might have read.
So the Grove of Remembrance has become the Grove of Amnesia. Apparently, Support the Troops doesn't extend back all that far.
I suppose we can't be too upset with the folks who manage our parks. They operate under somewhat of a disadvantage. During the 5-1/2 years of the Ballard administration, funding for our parks has been reduced by one-third. Ballard has recommended a further 25-percent cut in his 2014 budget.
According to the Trust for Public Land, the latest data (2010) for the 91 largest U.S. cities shows Indianapolis ranks 84th in per-capita spending on parks and recreation. Per-capita spending on parks in Columbus, Ohio, is half again as much as Indianapolis. In Fort Wayne, it is nearly double. It's five times in Chicago, and in Minneapolis and Cincinnati, seven times.
Take heart. Unless the City-County Council adopts Ballard's 2014 parks budget, we will still be ahead of Detroit.
But it must be said that we do have nice professional sports facilities. Maybe even state of the art. You might say "worthy of global aspirations."
In 2013, the Capital Improvement Board will collect $138 million from various taxes in Marion County. The mayor has proposed the Parks Department get $16.3 million in tax revenue in 2014. We will spend 8-1/2 times as much on CIB, with professional sports venues receiving the lion's share, as we do on parks and recreation.
America's Health Rankings places Indiana 41st for overall health and 42nd for obesity.
The Robert Wood Johnson Foundation's health rankings list Marion County 79th among Indiana's 92 counties.
Where there is a will, there is a way. We seem to be much better at figuring out how to fund professional sports than parks or recreational programming for 73,000 Marion County children living in poverty.•
__________
Mahern has been an assistant to U.S. Rep. Andy Jacobs and U.S. Sen. Birch Bayh and served in the Indiana Senate. Send comments on this column to ibjedit@ibj.com.
Please enable JavaScript to view this content.