It's easy to label Piada (1380 S. Rangeline Road, Carmel, 564-4877) as La Dolce Chipotle or Subway—Italian Style. The process of dining here is familiar: You start with a circle of thin-crust dough (think tortilla) and instruct the counter staff to add in an anchoring item, supplement it with veggies, cheeses, etc., and douse it with a sauce. A quick tuck and roll keeps it intact until you get to your table.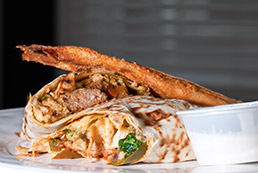 At Piada, you make the call on what you want stuffed into your flatbread. (IBJ Photo/ Eric Learned)
The Columbus, Ohio-based chain calls its concoctions "Italian Street Food" and, yes, you could find piadina, a kind of flatbread, in recipes going back to the 1300s. But Piada's first Indiana location feels like a very contemporary creation. The dining room is sleek and loud, with tables meant for sharing with strangers.
Skip the meat and a piada, wrap or bowl will cost $6.98. Ditto for Italian sausage or chicken, cooked. Calamari raises it a notch to $7.25, steak to $7.45, and salmon to $8.95. Alternately, you can order an angel hair Pasta Bowl or a Chopped Salad Bowl and supplement it any way you like with expected add-ons (tomatoes, cucumbers, olives) or unexpected ones, including feta cheese, pancetta, white beans, peppadew peppers and even pasta (yes, carb-cravers, pasta inside a flatbread). In addition to a crushed tomato pomodoro sauce, there's diavolo, parmesan alfredo, a pair of pesto sauces, and a cold creamy parmigiano.
With everything fresh-tasting and hot from the grill, it's hard to go too wrong with such DIY dining. But while making my own selection (diavalo-ed Italian sausage) proved fine, I would have preferred it if Piada offered some suggested combos (A Chef's Suggestions list is posted at mypiada.com.). My guest—a returnee who works at a nearby office who has added Piada to his lunch rotation list—happily took care of a pasta bowl mixed with veggies. I was less enamored with the Piada Stick ($1.95), a crunchy, State-Fair-like rod of fried dough with pepperoni inside (you can also get parmigiano reggiano or artichoke). Tomato Basil soup ($4.25) neither excited nor disappointed.
Piada does get a little creative with its beverages, supplementing the usual soft drinks with Italian sodas and teas ($1.75/$1.95). Like any decent Italian meal, a Piada lunch is a filling one, so desserts—Cannoli Chips served with chocolate chip cream ($2.95)—will have to wait until my next visit. And that will probably happen the next time I want a quick, inexpensive sandwich before a Palladium concert.•
—Lou Harry
__________
First in a month-long series of reviews of restaurants in recently rehabbed spaces.
Please enable JavaScript to view this content.