CID Capital hopes to raise $150 million for its latest private equity fund in a market that has been tough on similar funds.

The Indianapolis investment firm raised $98.8 million as of Sept. 19, according to a Securities and Exchange Commission filing.

The fund, if it hits its target, would be the state's third largest behind the $171 million Centerfield Capital Partners closed on in May and the $202 million Hammond Kennedy Whitney & Co. rounded up in 2007.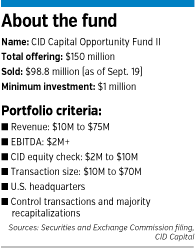 The firm typically takes majority stakes in U.S.-based "lower-middle-market companies." In recent years, it's turned its focus toward the Midwest, investing in Indiana companies such as Scale Computing, Matilda Jane Clothing and ABC Industries.

Fundraising this time around could prove challenging, given investors' hesitancies to put their money in smaller, private companies, investment experts say.

"As the saying goes, markets hate uncertainty," said Steve Appel, vice president of corporate development at Gregory & Appel Insurance in Indianapolis and past president of the Association for Corporate Growth's Indiana chapter.

Looming regulatory, health care and tax issues in Washington, D.C., have stoked a lot of the uncertainty, he said.

"Balancing those items with the normal deal-making pressures and operational demands that fund operators have can make focusing on raising a new fund a challenge," he said.

Indiana's $27.1 billion Public Retirement System pension fund has already thrown its support behind CID, investing $20 million in the new fund, which was the same amount it invested in the previous fund, said agency spokesman Jeff Hutson.

CID would not discuss the fund with IBJ because it has not closed.

Investments from the fund range from $2 million to $10 million each. The companies must have annual revenue of $10 million to $75 million, among other requirements.

The firm began in 1981 as the Corporation for Innovation and Development. It was part of then-Lt. Gov John Mutz's plan to reinvigorate Indiana's rusting, manufacturing-based economy.

CID and its investors made millions through the 1980s and 1990s before the dot-com bubble burst and flipped private investing on its head.

Indiana companies began receiving more of CID's attention in the mid-2000s. Five of the past 25 investments have been in Indiana companies, three of which went to the same company.

Indianapolis-based Scale Computing received $3 million in June 2009 with a $9 million boost in March 2010 and another $12 million in September 2012. Matilda Jane Clothing received $9.5 million in July 2012. Most recently, ABC Industries in Winona Lake took in an undisclosed amount.

The fund that invested in those companies reeled in $75.2 million from 28 investors by July 2008, falling short of its $100 million goal.

Private equity firms spiraled with the rest of the economy over the next couple of years. Companies in CID's investment range had a tougher time pulling investors' interest back because they were riskier than larger, more stable business, said Adley Bowden, director of research at Seattle-based private equity researcher PitchBook Data Inc.

"It wasn't until recently that banks were more willing to take the risk" in companies with less than $1 billion in revenue, Bowden said.

In terms of dollar amounts, fundraising was up 38 percent nationwide in the first three quarters of this year, compared to a year earlier, Bowden's firm reported Oct. 9.

Regardless of what the government does, fundraising is an "increasingly competitive landscape," said James Birge, a partner at law firm Faegre Baker Daniels whose areas of practice include corporate transactions.

"It's a somewhat crowded market for funds, relative to the number of financial sponsors," Birge said. "So you really need to perform at a high level."

CID's Sept. 19 filing gave no indication of who its investors were for its latest fund. It only noted they must contribute at least $1 million.

Federal law protects the identity of most private investors in the United States. However, certain organizations, such as government pension funds, have to disclose their individual investments upon request.•