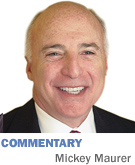 Among the many people for whom we mark the passing of life, there is rarely someone we can celebrate for quietly exerting a profound impact on thousands of young men and women. You probably never heard of Leonard Fromm.

Fromm honed his people skills with degrees in philosophy and counseling psychology. After earning a J.D. at the University of Wisconsin-Madison in 1977, he accepted his dream job, associate dean for student and alumni affairs at the Indiana University School of Law—the one in Bloomington. Fromm considered it a privilege to serve the school, which he did for 33 years before succumbing to cancer last Feb. 2.

In addition to duties of that position, Fromm's portfolio included responsibilities for the fellowship/scholarship program, commencement and state bar certification. He also found time to teach a class in negotiations. But his focus and value extended to academic concerns and personal problems of all his students. He interacted with nearly 6,000 of them—comprising 60 percent of the alumni—and stayed in touch with many after graduation.

It was said that Len knew every student at the school and that he was their guide as they grappled with the anxiety of their first year, as they became involved in the school's extracurricular events and its social scene, and as they developed ways to cope with academic setbacks. For those contributions, he was awarded the school's Gavel Award five times.

Some have estimated it would require up to seven new hires to fill the abyss left by Fromm. He was likened to Yoda the Jedi warrior who could see clearly in the hearts and minds of others.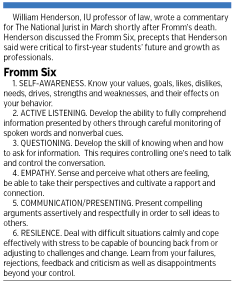 Many tears were shed at a memorial tribute last month, especially among former students who volunteered their personal experiences: "I owe my professional life to Dean Fromm." "When I doubted my abilities, he reminded me of my strengths and achievements." "Dean Fromm kept me in law school." "Len will always be the gold standard for any teacher of any type — always there, always patient, always fair and always polite and direct." "He is one of the best men I've ever had the privilege of knowing and being taught by." "I will never forget him."

Our son Todd finished first in Fromm's negotiations class but only received an A-. Deciding to use his new-found negotiation skills, he suggested to Fromm that the top of the class should receive an A. Fromm's reply, "There is still much that you could learn about negotiations. Congratulations for that A-."

Fellow faculty volunteered that Fromm was an integral part of everyday life at the law school and that he was responsible for building and nurturing the law school community. Now that community is grieving over the loss of Leonard Fromm.•

__________

Maurer is a shareholder in IBJ Corp., which owns Indianapolis Business Journal. His column appears every other week. To comment on this column, send e-mail to mmaurer@ibj.com.