A long-vacant retail building a few blocks north of Massachusetts Avenue is about to undergo a major renovation and could be ready for occupancy in the spring.
Built in 1927, the 6,700-square-foot eyesore at 1101 N. College Ave. has sat empty since the early 1980s. But neighborhood developer Larry Jones, principal of Teagen Development Inc., believes the building is worth saving.
"This is one that I've driven by three times a week for 30 years," he said. "It's always been there; it finally became available."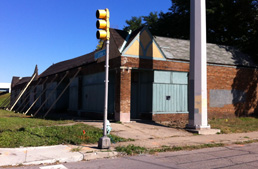 The 86-year-old eyesore at 1101 N. College Ave. has been vacant since the 1980s. (IBJ Photo/Scott Olson)
Jones agreed last year to buy the building from John Thompson, who had owned it since 2005. Thompson had applied to the Indianapolis Historic Preservation Commission for permission to demolish the building but withdrew the request when Jones stepped forward to buy it.
Jones declined to disclose the purchase price but told IBJ in October 2012 that he had agreed to pay "in the mid-five figures."
IHPC has jurisdiction over buildings that fall within the city's designated historic districts and typically disapproves of their demolition. The building at 11th Street and College Avenue is in the northeast corner of the Chatham Arch historic district and is just south of the Old Northside Historic District.
"It was always a building that I was hoping would be saved one of these days," said David Baker, IHPC administrator.
Jones has built a career revitalizing urban retail properties. His company developed the Chatham Center, a building at Ninth and East streets with 9,100 square feet of retail space and 11 apartments. He also developed Lincoln Park Shops at 25th Street and Central Avenue and is a partner in the entity that bought and improved the Murphy Art Center, a 44,000-square-foot building at 1043 Virginia Ave in Fountain Square.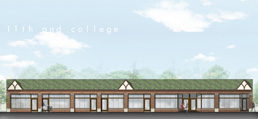 The developer hopes to fill the finished product with three retail tenants. (Image courtesy Blackline Studio)
Construction on his latest project is slated to start in December. Jones said he'll spend about $600,000 to renovate the one-story structure whose collapsed roof has left much of the interior exposed to the elements.
The plan is to stabilize and restore the front and south facades and replace the east and most of the north concrete-block walls. The original clay-tile roof will be preserved along with masonry and the wood-and-glass storefront.
One of the biggest issues for the building has been a lack of parking. Modifications to the sidewalk along the dead-end spur of 11th Street should provide for nine spaces. Jones also has asked the city to rescind parking restrictions along the east side of College from 11th to the Interstate 65 overpass, giving the building a total of 31 dedicated spaces, Jones said.
That's helping to attract interest from prospects. Jones hopes to fill the space with three tenants and already has a letter of intent from a small neighborhood market to occupy 2,700 square feet of the space.
The market will offer restaurant-quality prepared entrees to go, he said, and will have a limited amount of counter and exterior patio space available for on-site dining. Other tenants could be service providers such as a dry cleaner or a real estate or insurance agent, Jones said.
He plans to charge $16 a square foot, a rate cheaper than what's commanded on Massachusetts Avenue, where foot traffic is more abundant. Still, Jones thinks the building has potential.
"It's got good traffic and good visibility," he said.
He's named it Ovid and Calvin Commons in a nod to the original owners of the property, law partners Ovid Butler and Calvin Fletcher. Butler is best known for founding Butler University.
He had planned to start a college on the site but later established North Western Christian University in 1855 a few blocks north at 13th Street and College. The university took Butler's name in 1875 and moved to Irvington. It's been at its present location, at Sunset Avenue and West 46th Street, since 1928.
Jones' building at 11th and College originally housed the Great A&P Tea Co., a barbershop, a shoe repair business and a laundry. Over the years, it also housed restaurants and a delicatessen.
"I'm delighted that somebody is trying to tackle it and make something out of it," said Sally Spiers, president of the Chatham Arch Neighborhood Association.
 
Blackline Studio is the architect on the project.
 
Please enable JavaScript to view this content.