Most remember well the financial crisis that led to the Great Recession. The problems were complex and big, and there were many villains and many more victims.
But five years after we stared into the abyss, the economy is gradually moving forward.
The banking industry was one of many culprits, and it was severely wounded, but it, too, is coming back.
Many of the industry's problems were caused by large money center banks through their aggressive, and now seemingly reckless, contribution to the housing collapse.
Indiana community banks were not big players in Wall Street shenanigans, but they were hit hard.
Earnings were decimated by loan losses. Non-performing assets (mostly troubled loans and repossessed real estate) soared, damaging balance sheets and causing great consternation for bank regulators, who in turn caused great stress for bankers.
Lenders, salespeople by temperament, found themselves shifted to loan workout duty. And bank stock prices got clobbered.
Bank executives had a gloomy outlook, and many were feeling mighty low a few years ago. (While I need to apologize to the banks that dodged most of the flying bullets, even you had problems, though perhaps less severe than your majority brethren. They had the flu; you had only a head cold).
A good place to observe the collective state of mind of Indiana bankers was at their annual convention in Indianapolis last month.
The prevailing mood is guardedly optimistic. Corporate clients are borrowing again, albeit modestly. Lenders are able to do what they do, and their loan workout duties have subsided.
These improvements take time, and this recovery has taken a lot longer than most. But things are looking up, regulators are not tormenting their ailing constituents as much, and bankers are looking forward to better times.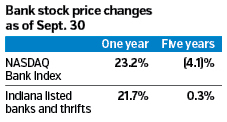 The stock market has taken notice of the brighter skies ahead for banks.
It is noteworthy that Indiana's bank and thrift stocks have fully recovered, while the NASDAQ Bank Index remains down.
This can be explained by the different composition of the groups: Indiana-based banks are community banks, which generally avoided the big-boy games that created such troubles for many of the generally much-larger banks included in the NASDAQ Bank Index. Some Indiana banks played those games, but a few did not survive, thus are not in the median price changes.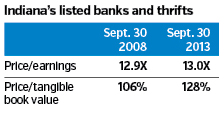 To provide perspective on the metrics underlying the bank stock price changes, the following table shows two primary bank stock pricing determinants then and now.
The valuation multiples show that the P/E ratio is virtually unchanged from five years ago, but the price-to-tangible book ratio is up sharply. This reflects the fact that earnings have declined relative to equity.
The economy continues to mend, as does the nation's banking industry, and Indiana's banks and thrifts seem to be doing reasonably well.
The financial crisis and the Great Recession that followed, however, have left bankers more humble, and that is a good thing: Perhaps they can avoid some of the missteps that contributed to the near collapse of the financial system.•
__________
Reed is an investment banker, bank analyst and consultant, and president of David A. Noyes & Co.'s Investment Banking Group. Views expressed here are the writer's.
Please enable JavaScript to view this content.