A third securities firm in the region has been slapped with sanctions by federal regulators.
Kokomo-based CFD Investments, without admitting or denying allegations, agreed last month to pay a $100,000 fine to the Financial Industry Regulatory Authority after one of its representatives stole about $400,000 from a customer's account.
The penalty follows unrelated sanctions against City Securities Corp. and Goelzer Investment Management, both based in Indianapolis, earlier this year.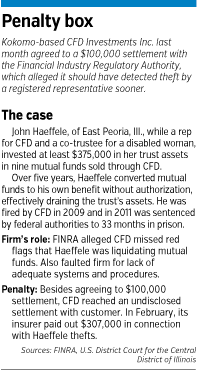 In late 2010, financial advisor John R. Haeffele was convicted in federal court of mail fraud and conversion and was sentenced to 33 months in prison.
Haeffele was trustee of a fund for a severely disabled woman, and mutual funds were purchased on her behalf through CFD Investments.
FINRA alleged that, starting in 2001, Haeffele began liquidating mutual funds held in the trust as soon as six months after purchase, writing checks to himself.
"The firm had access to information about these transactions and therefore could have discovered [Haeffele's] activity. This practice continued for five years until the accounts were essentially worthless."
CFD did not address Haeffele's "repeated failures" to submit transactions and correspondence blotters.
"Critically, the firm failed to respond to the uninterrupted pattern of mutual fund redemptions over a five-year period in the trust's accounts," said FINRA.
Regulators said Haeffele repeatedly violated procedures the firm had in place, but that CFD's systems and procedures to monitor mutual fund redemptions were inadequate.
CFD issued a statement, saying when it learned of Haeffele's theft in 2009 it instituted a policy that prohibits a financial adviser from serving as a trustee for any trust account unless the grantor of the account is an immediate family member.
It also adopted procedures to record and track orders that a financial adviser places with a fund company directly.
The Kokomo investment firm, which has 170 financial advisers in the Midwest, had no disciplinary history with FINRA.
CFD also reached a settlement with the disabled woman's estate, according to records. The exact amount is unclear, but last February CFD appears to have tapped $307,000 from its insurance company related to the Haeffele case, according to FINRA records.
Haeffele's scheme also cost his brother his own job at CFD. FINRA records show that David Haeffele knew his brother was stealing from the trust and failed to inform CFD despite being told by the trust fund customer of the theft.
The cost to CFD of John Haeffele's wrongdoing is exceeded by a $580,000 settlement Indianapolis-based City Securities Corp. reached with the Securities and Exchange Commission last July.
The SEC alleged that City, the dominant firm in municipal finance based in Indiana, failed to detect false statements to bond investors by a client, West Clark Community Schools.
Regulators said the school claimed it had been providing annual financial information under a previous offering but in fact had not.
The most embarrassing part of the settlement for City is that regulators said its former municipal finance chief, Randy Ruhl, provided improper gifts to bond issues—then later charged the expenses back to the issuers without their knowledge.
Another local firm ran afoul of regulators last July. That's when the SEC charged that Gregory W. Goelzer and his Goelzer Investment Management misrepresented to clients that it had conducted a comparative analysis of which brokers conducted trades under the best terms before selecting itself for the work.
Without admitting or denying the allegation, Goelzer agreed to pay nearly $500,000 in a settlement with the SEC.•
Please enable JavaScript to view this content.