A pizza war has broken out in Indianapolis—not in the kitchen, but in the courts.
Cafe Patachou founder Martha Hoover, whose restaurant concepts include the artisanal pizzeria Napolese, is suing Mohey Osman, the owner of newcomer Crust Pizzeria Napoletana, claiming he's ripped off her pizzeria's entire look.
"This is an issue of customer confusion, pure and simple," Hoover told IBJ on Wednesday morning. "I really believe they can operate any restaurant they want. My concern is that they mimicked almost every aspect of our interior design, and it's confusing to customers."
The resemblance is so severe, the lawsuit charges, that it led one visitor to Crust to tweet, "Is Crust in Carmel somehow related, or did it just rip off @NapolesePizza's…everything?"
Crust opened in September at 12505 Old Meridian St.
Reached by phone, Osman said he disagreed with the allegations and doesn't believe there's a resemblance. Asked if he was willing to make any changes, Osman responded, "absolutely not."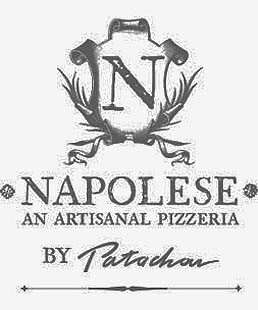 Among the similarities cited in the suit is the alleged likeness between the logos of Napolese (above) and Carmel-based newcomer Crust (below).
Hoover's lawsuit charges that the look of Crust's menu, the industrial-style seating, and general design and set-up of its bar and wine rack are among the similarities that are likely to imply to customers that there's an association between Crust and Napolese.
Hoover cites other resemblances, including Crust's color scheme and its use of inspirational quotes in restrooms.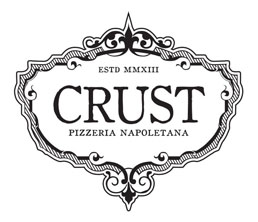 Hoover filed her suit in Marion Superior Court on Friday and is seeking a preliminary injunction to stop Crust from using her intellectual property, trade design and trade dress. A hearing has been scheduled for Oct. 31.
She's suing Osman and Crust for trademark infringement, unfair competition and forgery.
Hoover said she has not been in Crust but has received phone calls, text messages and emails from customers who have, wondering if it's part of her Patachou business because it looks so similar to Napolese.
"I've put so much energy into protecting our trade dress, I felt it was important for them to make some changes so there simply is no brand confusion," Hoover said.
Hoover launched Napolese in 2010 at 49th and Pennsylvania streets, in the same retail center that houses the original Cafe Patachou location that opened in 1989. Two more Napolese locations have followed, at 30 S. Meridian St. downtown and in the Fashion Mall at Keystone.
Osman, a Cairo native, owned and operated The Egyptian Cafe & Hooka Bar in Broad Ripple before recently selling it.
 
Please enable JavaScript to view this content.