Insurance carriers are dramatically altering the way they offer property and casualty coverage in Indiana, and in most cases, it's costing homeowners.

The changes companies are starting to include in certain policies often translate to more out-of-pocket expenses when homeowners file a claim, as carriers attempt to rebound from years of losses in the property and casualty segment.

They've been hit particularly hard in Indiana in recent years by an unusually high number of hailstorms that left a slew of claims in their wake. Now they're trying to recoup the losses by getting more creative with their policies—or simply raising rates.
Storms, like this one that blew through northwestern Indiana in 2010, have driven up property claims, and prompted insurers to raise premiums or cut back coverage. (AP Photo)
"I've been in this business 31 years and I've never seen it like this before," said Larry Weaver, who operates the independent Weaver Insurance Group on the northeast side. "They're losing their shirt on property insurance."

Among the changes:

• Paying cash value for a damaged roof instead of the entire cost (minus the deductible) for a replacement. For example, an insurance company might pay only half the amount to replace a 10-year-old roof with hail damage.

• Increasing deductibles for homeowners who file more than one claim during a certain period of time. A deductible might rise from $1,000 to 1 percent of the policy's value, or to $3,500 for $350,000 of coverage, for instance.

• Raising premiums on homeowners who want more than just basic coverage, such as something known as cosmetic damage coverage. Cosmetic damage affects only the appearance of a home, but doesn't compromise its structure.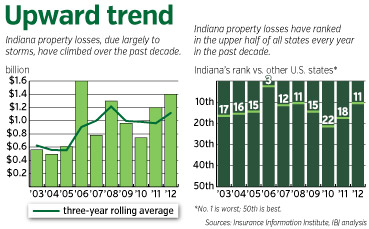 Sometimes insurers make the changes without notifying policyholders, said Mark Gayer, vice president of personal lines at Gregory & Appel, and another 30-year veteran of the insurance industry.

A handful of Gayer's customers have brought their homeowners' policies to the local brokerage for review, pointing out a change that might show up on page four of a policy.

"They're hiding things a little bit," he said. "Every company is doing it differently."

But Marty Wood, president of the Insurance Institute of Indiana, argued that the changes can actually save consumers money. By raising certain deductibles, insurers are able to avoid increasing premiums.

"I would not at all be surprised to some degree, for Indiana, that this is a reaction to some of the weather issues that have happened," Wood said. "But a lot of it is the marketplace looking for that little edge."

That means giving customers a discount if they drop, say, the cosmetic damage coverage from their policies, he said.

If so, Weaver, the independent insurance agent, isn't seeing it. He said every one of his carriers has increased rates for property and casualty insurance in the past year. Increases have ranged from 9 percent to 32 percent.

"They haven't charged enough; that's competition-driven," Weaver said. "And now they're not worried about it."

The state's largest insurer, Bloomington, Ill.-based State Farm Insurance, is employing some of the changes.

It pays actual cash value of a damaged roof at the time of the loss and then will reimburse the customer for the agreed replacement cost if the repairs are made within two years of the damage, spokeswoman Missy Dundov said.

Customers who file what's considered frequent claims will face more scrutiny. However, State Farm does not have a "hard-and-fast rule" that every customer will automatically be switched to a 1-percent deductible, Dundov said in an emailed statement.

"Some customers may be asked to implement a form of loss mitigation [to protect the home from future damage], some customers may be asked to accept a higher deductible, and some customers may not be renewed," she said. "Each policy is handled on a case-by-case basis when reviewed for frequent claim activity."

Most insurers will allow one weather claim in a three-year period, brokers said. But if a customer also submits a water, fire or theft claim, he's a good candidate to be dropped.

As a broker, locally based Arlington Roe will help homeowners who have been dropped by their insurers search for new coverage.

"We're seeing a big mix of carriers that are taking action," said Janet Phillips, an Arlington Roe executive vice president. "Some go back three years and some go back five years."

Property and casualty insurance typically has been a losing proposition for insurers, just not this bad. That's why consumers mostly see television commercials for auto insurance, which traditionally is a money-maker.

The bottom line: Homeowners' insurance shouldn't be unattainable; it just might cost more.

"It's pretty ugly right now," Weaver said. "But nonetheless, we have so many companies [we represent], we can find something for somebody."•