As a rule, I don't do much eating in movie theaters.
Oh, I'll sometimes share a bucket of popcorn and inevitably sneak in a few pieces of candy, but I've never quite gotten the reasoning behind eating the skimpy nachos or the overpriced hot dog served up at the refreshment counter. My preference, if I'm that hungry, has always been to grab something on the way to the multiplex or hold off until I head home.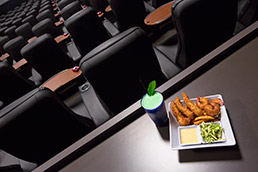 The Studio Movie Grill offers some of the roomiest and most comfy seating in the industry. That's needed when you have to navigate a full pizza during a movie. (IBJ Photos/ Aaron P. Bernstein)
Price is, of course, a factor (my being cheap), but pleasure is also part of it. If I'm going to pay for it, I want to also pay attention to it.
That didn't stop me from enjoying downtown Indy's late, lamented Hollywood Bar & Filmworks or 86th Street's equally missed Cinema Grill. And it didn't stop me from being excited when I heard that the troubled former AMC/Loews complex at West 86th Street and Michigan Road—most recently something called Movie Buff—would get an extensive makeover to be part of the Studio Movie Grill chain.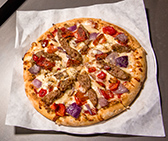 Since it's selling itself as both an entertainment venue and a dining spot (you can, if you want, order food at the bar without actually going to a movie), I thought I'd take its lead and combine my A&E and dining columns this week.
Let's take the A&E first.
The first thing you might notice that makes Studio Movie Grill different is that it offers reserved seating. That means whether you order online (with a surcharge, alas) or buy at the box office, you pick from the available seats. If your first choice of a movie is crowded and you don't want to sit up front or far in the back, you have the option before buying your tickets to see if another film is available.
The second thing that might catch your eye is the bar, in the lobby, where you can order a drink before or after the show. Whereas the time between final credits and finding your car in the parking lot at most theaters is minimal (except, perhaps, at Keystone Art Cinema), here you are encouraged to linger and chat. Just, please, don't spoil the film for those waiting to go in.
Another difference: On many nights—and at some matinees—there are choices beyond the expected first-run features. The SMG Toons! Series offers weekend screenings of kids' movies for $2. A guy-focused Brews-N-Views series, a Girls' Night Out series and a gender-neutral Dollar Movie Classics series, each at only $1. (Coming up, "The Hangover" and "Die Hard," "The American President" and "The Holiday," and "Swingers" and "It's a Wonderful Life," respectively.)
Warning: Don't get too excited about the SMG Music Series documentaries announced on the website. Some of these aren't part of the Indianapolis offerings. However, the new College Park location is participating in Special Needs screenings, where the lights are kept up and the sound down a bit. Next up: The animated film "Freebirds" on Nov. 9.
Speaking of kids, a huge plus here is Studio Movie Grill's policy of restricting kids 2 and under from PG-13 and R-rated films screened at 6 p.m. or later. I'd prefer the age bumped up to 5 or 6 with a complete ban for R films, but it's a start.
If I seem to be promotional rather than critical, so be it. The reality is that there are many places to see first-run movies. When I checked out "Gravity" and (forgive me) "Escape Plan," the sound and picture quality were more than satisfying, the seating comfy, and the prices in line with elsewhere ($10.25 for adult peak evenings and midnight shows, going down to $6 for Monday to Thursday matinees). SMG can't be blamed for the idiocy of "Escape Plan"—which, to be honest, I kind of enjoyed until Schwarzenegger showed up.
The difference here, of course, is the food, which brings us to part two of this review.
Unless you plan to just order popcorn and a drink, I'd recommend being seated at least 20 minutes before showtime. This gives you the time to peruse the too-extensive, multi-page menu you are handed on your way into the theater. Once you make your selection, a button at your seat brings a member of the wait staff—all of whose backs I worry about, given how they have to Quasimodo themselves down the aisles to avoid blocking the screen once the flick starts.
I immediately ruled out Cheese Fries, Hummus, the Steak and Gravy Sandwich, Mahi-Mahi Tacos and other selections likely to end up on my shirt were I to eat them in the dark. Instead, my guest and I went with the two-for-$25 Combo Meal, which included a shared appetizer and two entrees.
The former options include the expected popcorn and the unexpected edamame. We went with what proved to be a lackluster small order of Chicken Nachos, which I thought would be devoured while the lights were still up. I was wrong, but with minimal chicken they didn't prove difficult to manage.
We did better with our entrées. Coconut Tenders—one of four chicken tender options—had the right amount of flavorful crunch in its combo of hand-breaded panko breadcrumbs and coconut flakes surrounding sizable pieces of chicken. I even dared dip some into the accompanying honey mustard.
The Margherita Pizza isn't likely to make Studio Movie Grill a destination pizzeria, but with a crispy crunch, fresh mozzarella and tomatoes, and just enough basil, it satisfied even when the last slices were eaten well into the movie. If you were thinking about going to an Applebee's before the show, you shouldn't be disappointed in the quality you find here.
In addition to the usual fountain sodas (a sticker-shock $3.50 if this were anywhere but a movie theater), there's a full bar offering cocktails, including Tito's Handmade 007 Martini—one of the few menu nods to the movies. The Adult Milk Shake menu includes a Frosty Thin Mint ($8) that I found heavy on the ice cream and short on mint.
A Brownie Sundae (which was supposed to be $5 with the Combo Meal but which I later realized was billed at the $6.95 rack rate) came bathed in vanilla and chocolate ice cream, Ghirardelli caramel and chocolate sauces, with cinnamon chips parked alongside for dipping.
Service was attentive and as unobtrusive as could be expected. Whereas I'm usually the guy shushing those around me in theaters, I forced myself to accept that some murmuring comes with the territory here.•
__________
This week's Dining Column is the last in a month-long series of reviews of restaurants in recently rehabbed spaces. Lou's Views appears weekly. Send information on upcoming arts and entertainment events to lharry@ibj.com.
Please enable JavaScript to view this content.